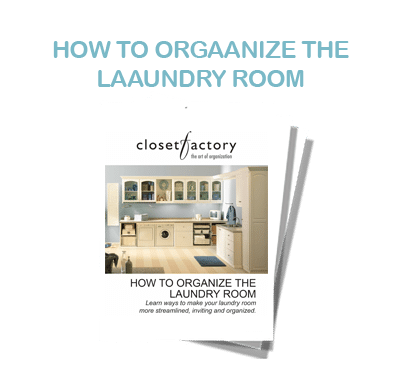 About This Guide
The laundry room is commonly one of the most disorganized rooms of the house. One reason the laundry room is disorganized is because it is the room that collects those items that don't always have a home. Detergents, ironing boards, tools, ladders, and even pet areas are often placed in the laundry room. That's why, Closet Factory has teamed up with New York Times best-selling author and expert organizer, Regina Leeds, to create a great guidebook called "How to Organize the Laundry Room."
Like many of Regina's organization strategies, she believes the best place to start is by taking a step back, and really looking at the space. She advises her readers to ask some of these questions before getting started:
Does your laundry room need a fresh coat of paint?
Are there items in your laundry room that could more logically be stored in other parts of the house?
Do you have brooms and mops leaning against the wall rather than getting them up off the floor and placed on hooks on the wall?
Do you have windows in your laundry room, and if so, when was the last time you cleaned the glass?
Do you have a cabinet for storage? Could you add a few shelves or even baskets to help in organization?
Is it time to replace your washer and dryer with units of a different size or with lower water and electricity usage?
Is the lighting source adequate and inviting or depressing?
Organize Cleaning Items
Once you have taken a big picture view of your laundry room, jump right into organizing the space by focusing in on the fundamental purpose of the room. Regina encourages people to follow some of these laundry organization best practices:
Empty your detergent, bleach, and liquid fabric softener into smaller and easier to manage size containers for everyday use.
Backup or larger detergent containers should be placed on a shelf or cabinet for safety and better organization
Label your cleaning supplies clearly and place them in specific areas. For example, bathroom cleaners should be stored on one shelf, while kitchen cleaners should be placed on another.
Make Room for Fluff and Fold
Another big problem for many laundry rooms is that they sometimes don't have room for folding clothes. Regina advises her readers that the best possible solution is to have a pull-down ironing board. This solution is convenient and incredibly easy to include in your laundry room.
Add Personal Touches
The laundry room is very often used as a work room; a place to accomplish domestic tasks that are not always pleasant, but necessary. That's why Regina encourages her readers to put up family photos of a vacation or party. Regina encourages people to "think outside the box" when placing personal touches into this room. For example instead of using a cork board and push pins to hang your photos, try to use a couple of digital photo frames where pictures can be rotated throughout the day.
Click below to download your guide!