Custom Closets vs. DIY Closet Kits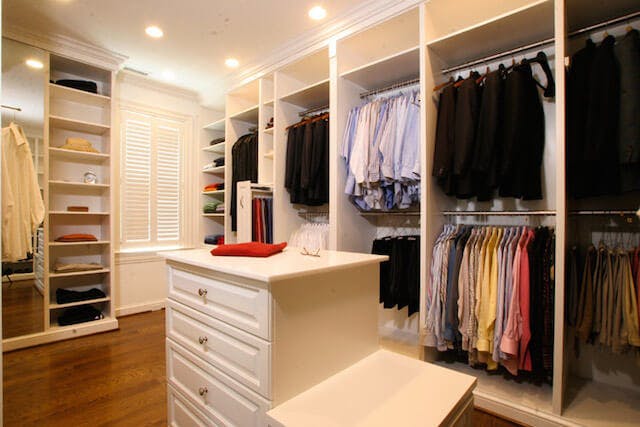 Whether you are deciding between working with a company specializing in custom closets to build a closet system just for you or you're using a high-end DIY closet kit, there are some significant differences to keep in mind. After comparing custom and DIY options, one difference that becomes less significant is the fact that the price point between a professionally installed, custom made closets and one that you have to install yourself is minimal.
Let's review.
1. Wall-Mounted vs Custom Systems
Most DIY closet systems are wall mounted, so you will need to self-install which requires tools and advanced home improvement skills. They also generally don't go all the way to the floor, which restricts how deep shelving, drawers and cabinets can be in the system. In comparison, a custom built closet system is anchored into the walls and sits on your floor for added stability, which also allows the shelving, drawers and cabinets to be of various depths.
Floor based closet systems also allow you extra style options like toe kicks, base moulding or a continuous kick plate, and the systems look like actual furniture whereas wall-hung systems do not because of the space between the unit and the floor. While some wall-mounted systems can be custom fit to your closet they are generally pre-fabricated and come in standard factory sizes, so you will need specific tools and the ability to cut them to your exact sizes.
In short, don't do this: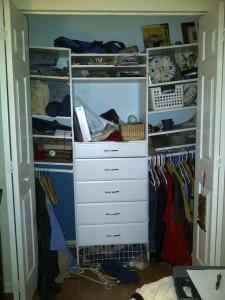 2. Custom Design vs Design it Yourself
With a custom closets company, you get a free design consultation with an expert designer who will come to your home, measure your space, listen to what you want and design a closet specifically focused on your needs. Pros know to create a personalized closet design, so they will show you everything at a glance, which makes visualizing the design a breeze. They also factor in aisle space and accessibility in the corners and they will take into account issues you may not be aware of like headers in closets, and obstructions like outlets, floor safes and light fixtures.
Although some DIY retailers have a "design my closet" feature to help you layout a closet design, you still need to do the work yourself. DIY products may also offer a design service, but usually that DIY designer is a stranger on the phone who will never come to your home and actually see the space. Keep in mind, creating a closet design with someone by phone or via fax can lead to design flaws when important information about structural details like return walls or obstruction issues are not provided. You won't have this problem with a professional designer who knows what questions to ask and what to factor into a design.
3. Professional Installation vs DIY Installation
Unless you are extremely skilled in the realm of home improvement, installing a DIY closet yourself can be daunting. Not only do you need certain tools, but you also have to precisely install each component or you may end up with a less than desirable result. Mounting any of the systems takes skill especially if the design of the closet is in multiple sections. The systems need to be leveled and since clothing is heavy, the system must be attached to the wall properly or it will pull out of the wall taking everything with it while leaving huge holes. Even inexpensive wire systems can pose issues if not attached properly.
4. The Bottom Line
Although high-end closet systems can range into the thousands, the price difference between custom made closets and DIY is not as great as you think. Some retailers offer professional installation services, but they come at an additional cost which then defeats the cost-saving efforts of designing a closet system yourself.
Custom companies include installation in the price and offer warranties as well. Because custom companies offer free design consultation, you are best served investing one to two hours of your time in a meeting with a custom closet designer. Ultimately, it will be clear that for just a few more dollars, a company that specializes in custom closets is the savvy choice. After factoring in your time and effort in addition to the uncertainty of whether your dream closet will come out the way you envision, the price difference is ultimately not worth your anxiety, frustration and labor.