Styles
To reflect the various aesthetics that have become popular in interior design, we offer a wide range of favorite styles including Modern, Traditional, Contemporary, French, Asian, Shaker, Tuscan and more. Personalize your custom unit by sticking to the classic elements of a style, or mix and match to create your own unique statement.
Our designers help set the mood for your custom unit by collaborating with you to determine the best mix of colors, style of furniture, amount of texture, patterns, accessories and accent lighting. Color hues can also help set the tone for your space. All of our units can be painted and stained in our factory so that you can stay in tune with the theme of your home. To experiment with texture, explore our many species of wood, including cherry, walnut, maple and specialty wood like rift-cut oak and African mahogany.
---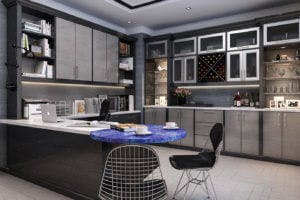 Contemporary
The main focus of the Contemporary style is balancing formal pieces with an inviting aesthetic. A Contemporary chic interior is more fluid than Modern design and cleaner than the Traditional look. Contemporary design often has clean, sleek lines and is marked by solid colors, predominantly muted neutrals or bold punches of color. Furniture is sleek, low to the ground and often has metal frames or straight legs, with an emphasis on basic shapes and forms. Graphic elements in the form of artwork or accents work well with this look.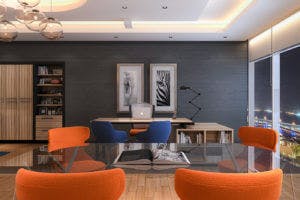 Modern
Modern interior design derives its influences from Modern Art. Modern interior design grew out of the decorative arts, notably Art Deco in the late 19th and early 20th centuries, reaching its peak in the 50s and 60s, or the Mid-Century Modern era. The principle of Modern design is expressed through geometric shapes, including rigid squares and rectangles along with smooth curves. With few ornamental flourishes to interrupt the continuous lines, this design aesthetic comes off streamlined and simple.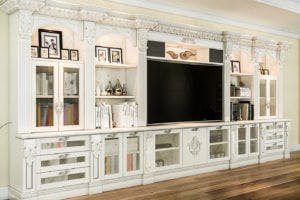 French
Adopted by European royalty in the 17th century, French design is ornate and ornamental, employing gold, gilding, onlays and molding. This layering creates an intricate aesthetic and uses luxurious fabrics – velvet and silk – to enhance the look. Incorporating both Baroque and Rococo designs, the French interior uses soft and muted shades along with romantic, whimsical features. Moldings are a must and furniture is curved, carved and gilded. Large mirrors, crystal chandeliers, beading and antiques are also staples of this style.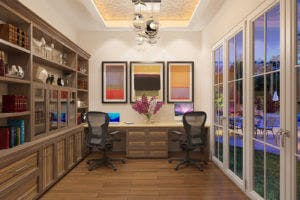 Transitional
Transitional style is a marriage of Traditional and Contemporary furniture, finishes, materials and fabrics. Furniture lines are simple yet sophisticated, featuring straight lines or rounded profiles. A lack of ornamentation and decoration keeps the focus on the simplicity and sophistication of the design. The Transitional palette relies on a lack of color to evoke a clean, serene atmosphere. Dark brown can add depth to a neutral balance of taupe, tan and vanilla. Crate & Barrel and Pottery Barn could be considered examples of transitional looks.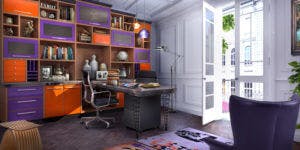 Postmodern
The Postmodern movement emerged in the 1960s as a reaction to modernist design. Postmodern channels a Contemporary interior yet shuns the notion of minimalism, putting emphasis on adornments that focus on emotional range. This is achieved by using a mixture of design styles, unexpected materials and unconventional points of view. Instead of sleek, simple furniture, the emphasis is on comfort and color.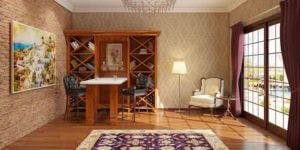 Tuscan
The Tuscan design style is inspired by old, Italian villages. Many of the homes have open-air patios, marble or tile floors and textured walls. Terracotta is especially popular within this decor, as are carved panel door fronts and exposed wooden beams. The idea is to create a home that feels open and airy like a countryside retreat, so walls are minimal and rooms are large. Accessories include wrought-iron fixtures, candle sconces and wool rugs.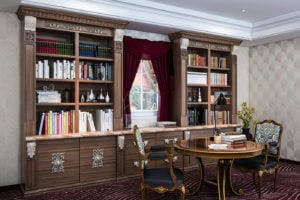 Neo Classical
A Neo Classical, or New Classical, look describes design that is inspired by the classic architecture of ancient Greece and Rome. Bring Neo Classicism into your design by using fluted trim, wide decorative molding, swags and Greco-Roman elements. Top the design with acanthus leaf molding, garlands, fabric swags or festoons. In terms of furniture, look for refined pieces that feature design elements such as tapered, fluted, or reeded legs, gold accents, scrolls, medallions, rosettes and lyre designs. Fabrics and upholstery should be in rich, but muted hues such as moss greens, grayish blues, dusty pinks, subdued maroons and classic whites.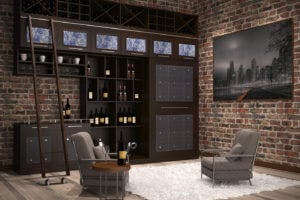 Urban
Urban design began when people started to move into abandoned factories and old buildings, repurposing them as homes. Therefore, exposed beams and concrete floors are a major component of this style. Popular for decorating lofts and offices, the Urban look also incorporates Rustic interior design with its emphasis on timeworn, handcrafted, distressed items and reclaimed wood. Accents are made of metals and stone with large, bold artwork and scattered plants to inject nature. Colors remain neutral, consisting mainly of browns, greys, whites and blacks.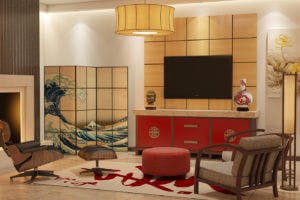 Asian
Asian interior design draws its influence from thousands of years of Chinese and Japanese culture. Asian interiors traditionally use a bold fusion of black, glossy lacquer and gold and red accents to illuminate clean, straight lines. The design aesthetic is simplistic and features the unfussiness of minimalist architecture. Great value is placed on the absence of nonessential internal walls to open up space and allow organic flow between the structure's interior and exterior. Smooth light woods, muted lighting and minimal accessories characterize this look.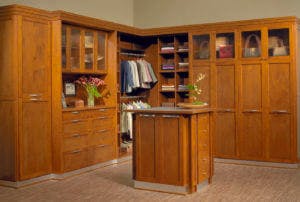 Shaker
This functional and simplistic design style gets its name from the Shakers, a religious sect that believed in the principles of utility, honesty and simplicity. These principles are reflected in their sturdy and simple furniture, devoid of ornamentation. The ladder carving is a common component of Shaker interiors. Furniture is made from quality wood, such as cherry or maple. The Shaker color palette is neutral with muted tones and pairs best with natural fabrics like wool, cotton and silk. Floors are untreated wood, lighting is simple and walls should have minimal décor.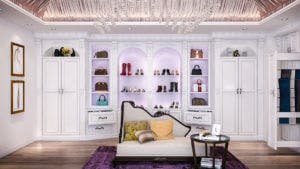 Hollywood Regency
Inspired by the glamour of movie set design during the golden age of filmmaking, Hollywood Regency design exudes sophistication and glitz. Hollywood Regency is a smorgasbord of other styles such as Chinoiserie (Chinese-inspired style), Neo Classical, Art Deco and Modern, although it maintains a sophistication that keeps it from feeling confused. The furniture has Neo Classical-inspired lines of traditional English Regency antiques, but chandeliers and gilded mirrors bring in a dose of glamour. Strong colors with bold patterns hint at modernity.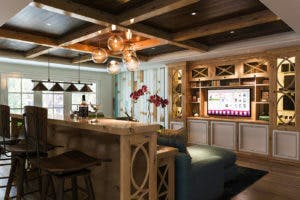 Rustic
Rustic interior design creates an eclectic look that emphasizes nature; homespun, timeworn, handcrafted, distressed items, constructed of natural materials or finished in a natural hue. Furniture consists of reclaimed wood, natural textures, metal and stone. The rustic look features wooden beams and columns as well as hardwood or stone flooring. The natural aspect carries through to the upholstery, linens and rugs. Simple and natural fabrics without a print, including linen and cotton, are a common choice.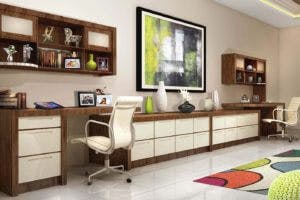 Minimal
Minimal interior design is one of the architectural centerpieces of the 20th century. Sparse and streamlined, the individual beauty of each piece of art and furniture can shine. The design emphasizes the importance of necessity, and encourages only the use of furniture that adds to the livability of a home. Solid, subdued colors keep the design simple.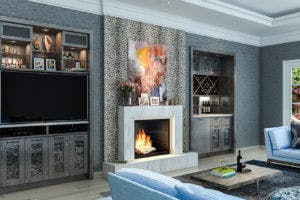 Eclectic
Also known as Bohemian Chic, this style captures the carefree and whimsical attitude of an artistic lifestyle. Eclectic style incorporates offbeat and unconventional mixtures of furniture, artwork and layered textiles. Vibrant colors, especially red and purple hues, figure prominently in these interiors, which harmonize different styles in a warm, inviting interior. Decorated textiles are essential, as are unique, bold, and thrifted accents.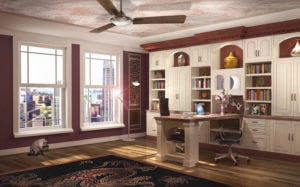 Classic
Trademarks of Classic or Traditional interior design generally include deep wood tones, architectural details, and elegant furnishings. Silhouettes play a crucial role, with wing-backed chairs, claw footed tables, and curved furniture pieces that reflect the 18th and 19th centuries. The Classic design emphasizes balance, from architecture to furniture placement. Furnishings tend to be grouped in formal arrangements that invite conversation. Colors are neutral but can also accommodate hues of browns, reds, greens and blues. Crown and base moldings are a mainstay in Classic interiors, though the style favors simpler versions over anything too elaborate.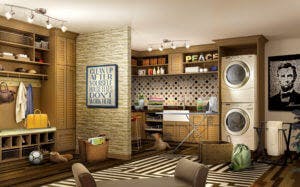 Craftsman
The Craftsman, or Arts and Crafts movement, took off around the turn of the 20th century. It was developed to contradict the overwrought style of the Victorian era. It rejected the factory-produced furnishings and decorative accents that prevailed at the time, instead embracing natural beauty and traditional craftsmanship. Medium to dark wood, stained glass and Tiffany lamps are also associated with this style. The Arts and Crafts color palette takes its subtle, muted beauty straight from the natural world: stones, bark, leaves and grasses.