Closet Factory's Pantry and Closet Designs Featured In Three Showcase Homes During This Year's Richmond Homearama
Each year, the Home Building Association of Richmond invites the area's most elite building professionals to showcase the latest interior decorating ideas, trends, and innovations for brand new luxury homes. Called "Homearama", this year's event featured seven custom builders crafting seven model homes on a single street in Chesterfield County, VA. Each home was fully furnished and decorated by the area's finest designers who showcased the latest trends and custom home features. Even more noteworthy, Closet Factory's Richmond designers, Cecelia Peay and Georgia Kukoski, individually collaborated with three different custom builders to create cutting-edge master dressing rooms, elegant pantries, and ingenious cubby storage solutions in three different homes.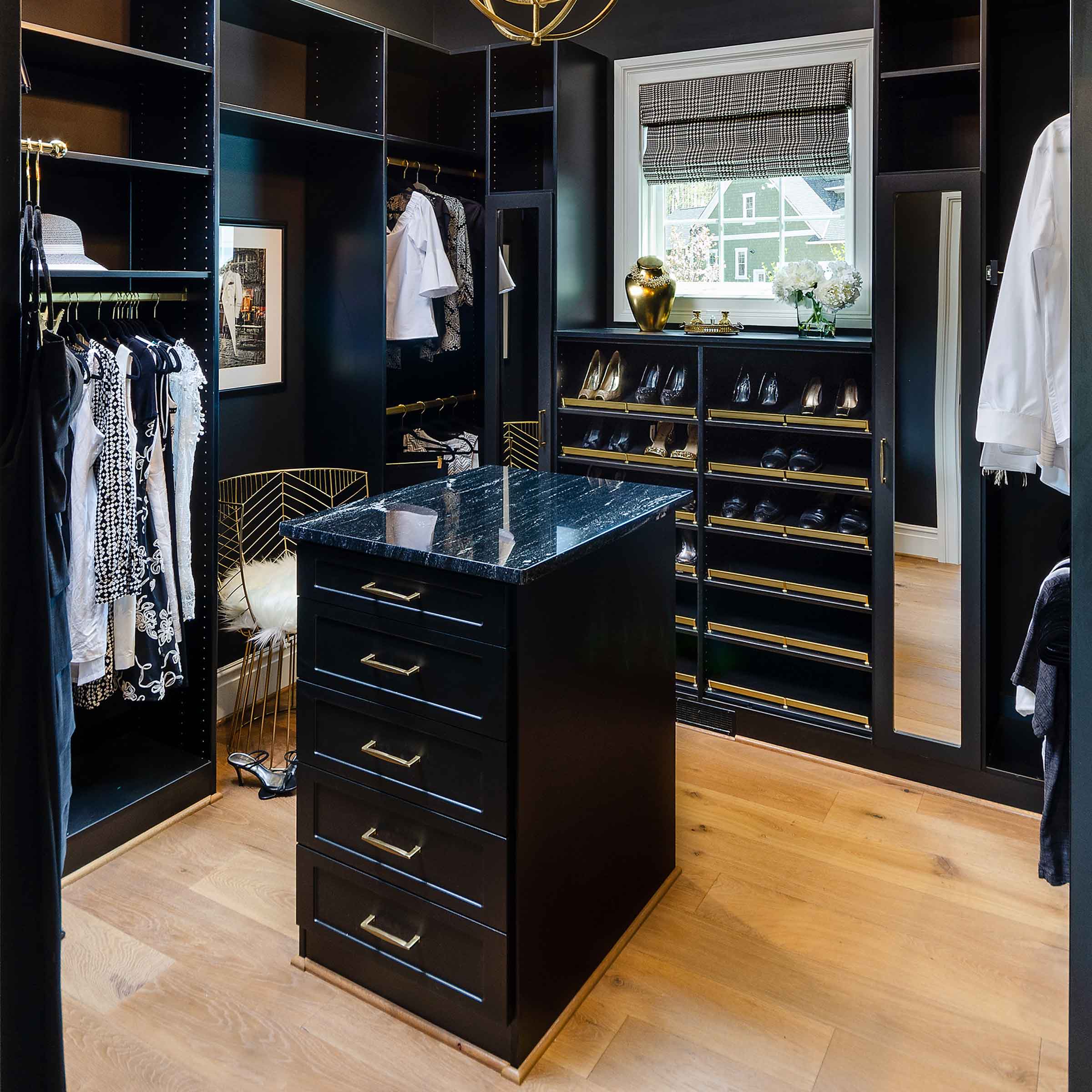 One of the major benefits of participating in the Richmond Homearama is that Closet Factory designers get to collaborate with the region's most prestigious building professionals and decorators on the newest strategies for custom storage solutions.
"The Richmond Homearama is a great way, not only for Closet Factory as a company, but for me as a designer, to showcase what we can do. Collaborating with people who have different decorating styles has really helped me expand personally along with my design abilities, and then I am able to pass that along to my clients," said Cecelia.
Cecelia worked with Harring Construction and Homesmith along with interior decorators  Priscilla George, owner of Interior Excellence LLC and Diana Ragsdale, owner of Transformations by Diana to create beautiful master closets, an under-the-stair cubby space, and a hidden pantry; Georgia worked with Jones Homes and interior decorator Kathy Corbet to create an elegant, luxury dressing room. Every aspect of Closet Factory's design and installation expertise helped generate excitement and attendance for the show, which is expected to pull in more than 20,000 visitors before it's over.
Listen to Closet Factory's Senior Designer, Cecelia Peay, describe how important the Richmond Homearama is for builders, designers, and decorators. 
Putting Luxury In the Dressing Room
Obviously, one of the most popular trends for designer homes is the luxury closet. Cecelia worked with interior decorator Diana Ragsdale, principal of Transformations by Diana to create an elegant master closet for Harring Construction's "The Oak Hill Retreat, a 4,200 square-foot, five bedroom, four bath home.
According to Cecelia, one of her main objectives for the project was to create a room that presented all the clothing items in a visible and organized manner. For Cecelia, this meant starting with slanted shoe shelves and a bank of drawers inside a center island that were visible the minute you walk into the room. Honey bronze gold punctuated the black walls and closet system. The island was capped with regal green granite that would be repeated throughout the master bathroom. A designer chandelier and recessed can lighting created a balanced ambient lighting strategy that took advantage of the existing natural light. Belt and tie racks combined with a velvet lined valet drawer helped put the punctuation mark on the word luxury.
"The interior decorator had a vision, and so I tried to come up with something that made sense for her vision, but also made sense for the space and the ultimate end user. To be honest, this closet has been one of the favorites. They love the flash of the black and gold," said Cecelia.
Project:
Custom Master Dressing Room
Builder:
Harring Construction
Designer:
Cecelia Peay, Closet Factory
Interior Decorator:
Diana Ragsdale, Transformations by Diana
Photography:
John Magor Photography
Pantry
Cecelia also explained that pantries are another major trend in luxury homes because more homeowners want their kitchen counter tops to be clean, uncluttered, and visible. That's why Cecelia created a hidden pantry with ample drawer storage installed just below waist level. In addition, she created a storage system that provided abundant shelving capacity with adjustable shelves, pull out drawers, and wire baskets. This complete storage strategy creates a pantry that can store virtually any kitchen item imaginable, from mixers and cereal boxes to potatoes and onions. The pantry design also included corner shelving units that make a great location for displaying plates or even large bowls. Navy-blue walls help make the white Melamine storage units "pop."
The Richmond, VA Closet Factory has participated in nearly 18 of the annual Richmond Homearama events, reinforcing its commitment to the local building industry, and the community at large.
"Bryan and Teresa Mueller have owned this Closet Factory office for 18 years, and they really give back to the community. Their faces are on all of the vans, so people really know who they are, and that means a lot to us as designers," said Cecelia.
Project:
Hidden Pantry Room
Builder:
Harring Construction
Designer:
Cecelia Peay, Closet Factory
Interior Decorator:
Diana Ragsdale, Transformations by Diana
Photography:
John Magor Photography
Project:
Custom Master Dressing Room
Builder:
Jones Homes
Designer:
Georgia Kukoski, Closet Factory
Interior Decorator:
Kathy Corbet, Kathy Corbet Interiors
Photography:
John Magor Photography
Project:
Cubbies Under Stairway
Builder:
Homesmith Construction
Designer:
Cecelia Peay, Closet Factory
Interior Decorator:
Priscilla George, Interior Excellence
Photography:
John Magor Photography
Project:
Custom Master Dressing Room
Builder:
Homesmith Construction
Designer:
Cecelia Peay, Closet Factory
Interior Decorator:
Priscilla George, Interior Excellence
Photography:
John Magor Photography
By Vincent Aviani