Closet Factory Cleveland Designer Volunteers To Organize The Boys & Girls Club
January was National 'Get Organized' Month, and to celebrate, the National Association of Professional Organizers (NAPO) hosted a variety of events across the country to help spread awareness and educate communities about the benefits of organization.
Members of the North Coast Ohio chapter of NAPO participated in this year's GO MONTH by volunteering their services to The Boys and Girls Club of the Western Reserve located in Akron, Ohio.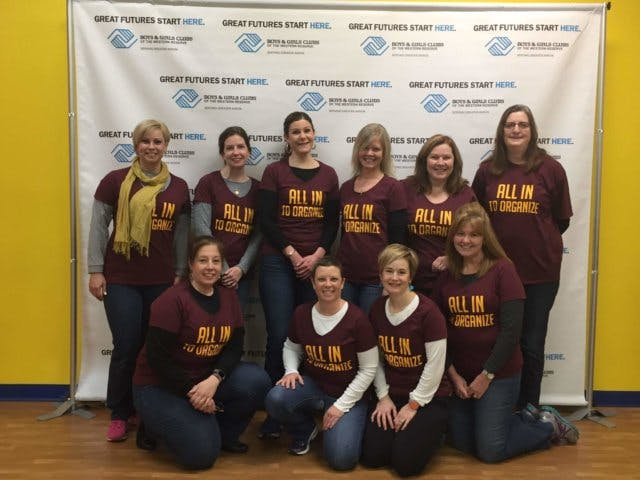 Photo by: NAPO North Coast Ohio
"It was so much fun!" says Stephanie Chiuchiarelli (pictured top-left), a senior designer with Closet Factory Cleveland who helped sort, purge, and organize The Boys and Girls Club's main storage areas. "The GO MONTH projects are fantastic because you can immediately see how much of an impact you make in someone's life."
Eight professional organizers and two closet designers, including Stephanie, donated their services to the project, working together to bring to calm to the chaos.
"NAPO North Coast Ohio's womanpower accomplished in one afternoon what it would have taken the staff of The Boys and Girls Club weeks to do, which would have taken them away from more important tasks with the children," explains Stephanie.
The Boys and Girls Club provides after school programs to children of all ages, with a focus on at-risk youth.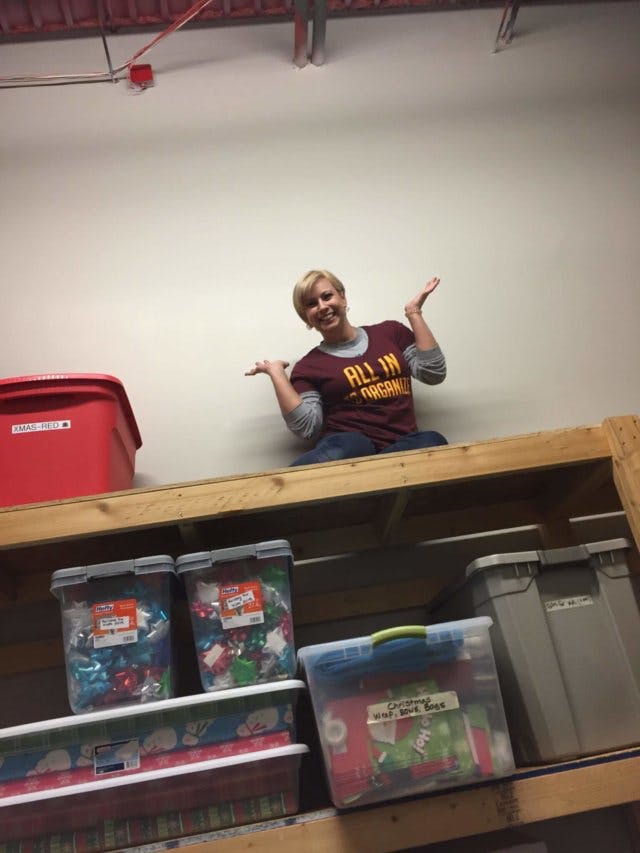 Stephanie scales the shelf to maximize every vertical inch of storage space!
"We created a safe and accessible storage room and freed up available space to relocate additional items currently being housed off-site," says Stephanie.
"Organizing the big storage room that had everything from musical instruments, school supplies, board games, and sports equipment to paint buckets, holiday decorations and toys was a big task, but we worked together and finished earlier than expected. We asked if there were any other spaces that we could do and The Boys and Girls Club was more than happy to say yes – so in roughly another hour's worth of time, we also tackled two janitors' closets and an office supply closet!"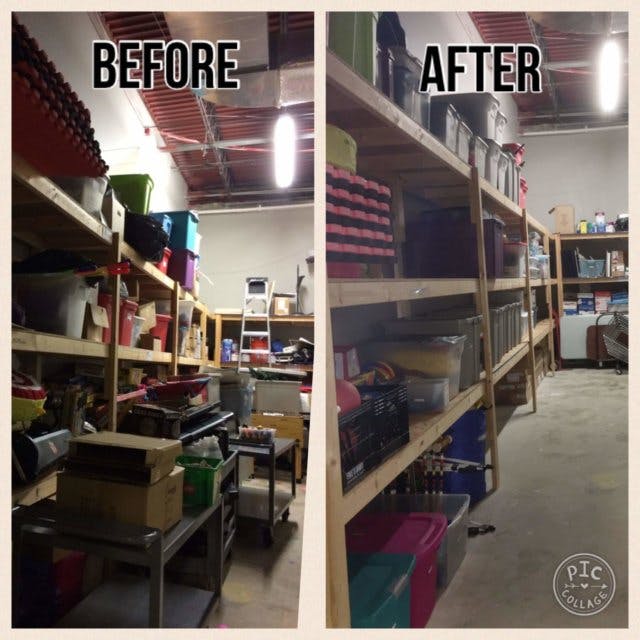 Photo by: NAPO North Coast Ohio
"I see how incredibly important good organization is everyday working at Closet Factory, so it was wonderful to put my skills to work for such a great cause," Stephanie admits. "They were so grateful and impressed with how quickly we worked. It was a fantastic event that I am so grateful to have been a part of. I can't wait for the next project!"
Read how Closet Factory donated over $50,000 worth of materials and accessories to Habitat for Humanity.