You Have Too Many Clothes: Slim Down Your Closet
You're probably hoarding $500 of unworn clothing!
Have you ever looked in your closet and felt like you have absolutely nothing to wear? Yet, you're looking at an entire closet full of clothes – packed to the brim with piles of clothes…in an unorganized closet. You even notice some items with the tags left attached. Unworn.
This isn't going to be good.
Ah. I know. You'll probably grab the jeans you wear every three days and that blouse that never seems to wrinkle despite how harshly you ram it back onto the cramped clothing rack. And perhaps you'll grab your favorite camisole from the top rack.
Am I right?
You know this is a great fit. It absolutely never steers you wrong and oddly enough it works for a day and night look depending on which shoes you wear with it. And the flats you love can always be stowed in your bag when you want to shed the heels.
There. That's better.
Perfect.
Or it is? Has your go to outfit become your saving grace mainly because you can't really figure out what you want to wear because you've actually amassed so many items that you're overwhelmed?
Wow. That was a mouthful…
But seriously is this your life? When you open your closet are you staring into a den of clutter? Are you perhaps overstoring?
After all, the average woman owns over $500 worth of unworn clothing, according to Huffpost Style. Yikes! What we could do with that extra $500…
But never fear…there's a simple solution to your dilemma!
Are you ready?
Ok, here goes…
You're going to need to organize your closet.
Gasp!
But who has the time?
You do!
This doesn't have to be some monumental time-consuming effort – although it can be life changing. Just think about the time you'll save yourself each day, and how you can finally stop wearing those same jeans. Every. Other. Day.
So here are a few quick tips to determine what stays, what goes, and what's next!
1. Edit
Our suggestion: Invite a friend with great style for your adventure, grab a bottle of wine and remove everything from your closet! Yes, everything. Place it all on the bed and get started. Sift through the items, getting input from your confidante and only place items back in the closet that get the seal of approval. Ask yourself this question: Would I buy this item today? If the answer is no – then toss it into a pile for consignment.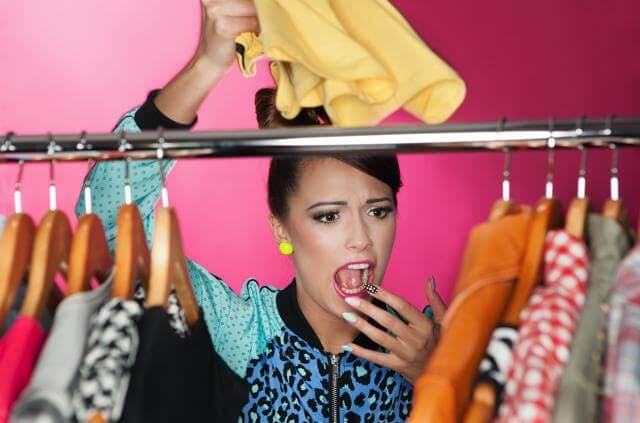 2. Develop a System of Uniformity
Uniformity is going to be key as you place items back into your wardrobe. We suggest using specialized hangers for blouses, skirts and slacks. Align all items the same way – with the hook end of the hanger facing inward.
3. Ditch the Shoe Boxes
Shoeboxes are generally just not a great way to store your shoes. They are clunky and they take up a lot of space. We suggest a shelving system for shoes to keep them neat and fully on display. In the absence of shelves, shoe racks are another short-term solution that will definitely steer your shoes in the right direction.
4. File By Folding
The best solution for folded items is to fold them neatly. This is an area of most closets that often neglected. Here's a tip – try using a cutting board as a folding board to properly fold your sweaters and t-shirts. This will help you create uniformity and a nice clean look to your folded piles.
5. Assess the Results
Once you've placed the items back into your closet and tossed the items that you no longer need, its time to make a visual assessment. Ask yourself the hard questions. Is there room for everything you've decided to keep? If not, where can you make room? What needs more space? It's likely your shoes need a permanent home. Will your current system be enough to get you by?
These are vital questions to ask as you make your assessment and you begin to think about long-term storage options. But for now, you've made great strides in ridding your closet of the chaos inducing clutter.
Now go relax. Finish off that bottle of wine. You've earned it.