Women Wardrobe Essentials For the Office Environment: Part III
In my previous two posts on "Women Wardrobe Essentials For the Office Environment," I reviewed in detail the key basic pieces that you need in your closet to create an image of success in the workplace. This included tops, bottoms, suits and accessories. However, no professional wardrobe is complete without the appropriate lingerie and shoes.
The Lingerie
Seamless Bras: Nude and black colors work best. I know many of my friends love to play with new colors that match what tops and bottoms they are wearing so have fun with your undergarments but make sure that for business they fit well and are comfortable underneath your work attire.
Seamless Panties: Nothing can ruin your look like panty lines. Nude and black to match your bras work well and come in a variety of styles to flatter all body type.
Hosiery: Although in many workplaces nude stockings are no longer required it is recommended to have a couple pairs on hand. Some climates might even require tights as a staple item to keep the chill away.
Shapeware: Seams are out and because of this every woman's wardrobe should include a couple items in this category. Popular brands include Spanx®, Cass Luxury Shapeware® and newcomer Skweez Couture™ by Jill Zarin. Shapeware can be found in body suits, bottoms, and top styles to create a seamless look underneath your outfit of the day.
The Shoes
Pumps: You won't find a more versatile shoe for business and they never go out of style.
Dress Flats: Having made a huge comeback in the past two years. Flats are a great alternative to wearing heals in the workplace.
Boots: Always great to have a nice black pair of boots that work year round. They come in styles ranging form booties, knee-length, and various heal levels that you find most appropriate for you.
Now that you know all the key wardrobe essentials to create a professional look, how can you make getting ready for each new workday quick and efficient? A custom closet system is the best way to keep your suits, dress shirts, bottoms, shoes and jewelry sorted and organized. You can request a free design consultation today with an experienced closet designer!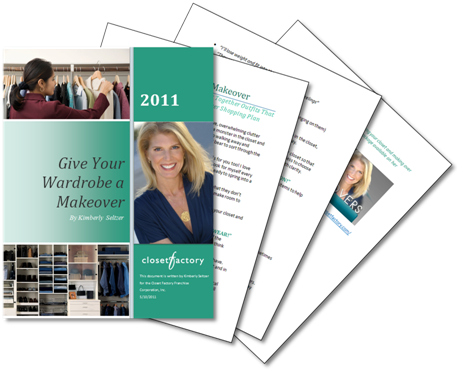 Looking for more general tips on creating a basic wardrobe? Check out our exclusive "Give Your Wardrobe A Makeover" guide by Kimberly Seltzer, Image Expert! This FREE 7-page makeover and organization guide invites you to expand your knowledge about keeping your wardrobe current and up to date with clothing that enhances your image. Download this guide by clicking here!
Previous posts:
Women Wardrobe Essentials For the Office Environment: Part I
Women Wardrobe Essentials For the Office Environment: Part II