Why Jill Zarin Needed a Closet Makeover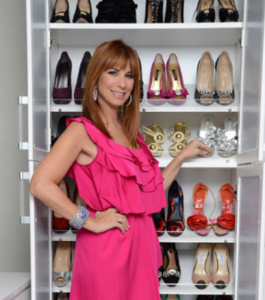 Meet Jill Zarin. One of the stars in "Real Housewives of New York City," Jill also recently launched a line of shapewear, hosiery and women's jewelry. Her busy, fashion-filled lifestyle had long since outgrown the closet storage system in her master bedroom. She needed some serious changes and worked with Closet Factory on the walk-in closet redo.
"My designer asked me 'so what don't you like about what you already have?' and I explained that I didn't have enough long hanging space," Jill explains. "I wanted to see my handbags and they were all shoved in at the top of the closet. And I really wanted a place for my jewelry."
Providing a closet organizer that would both store and show off Jill's large collection of handbags and shoes, the new closet puts all of her important possessions within easy reach. It also opened up new areas for additional storage.
Jill's favorite feature, though, is the double-decker jewelry drawer. Known for her jewelry passion, Jill had plenty of bling to fill it up. "I l just love the way it makes me feel," she says. "I love getting ready now. The experience is completely different than before."
Call us now at (800) 838-7995 to schedule a free design appointment. You can also request an appointment using the form on the right.