What is a Custom Walk-In Closet Design?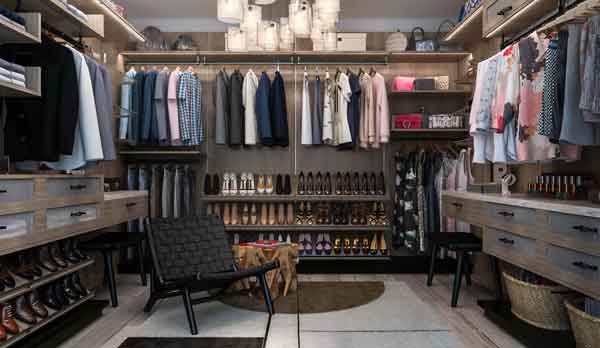 A custom walk-in closet design must fulfill the following three tasks:
It must include a unique design that solves one or more organizational or storage challenges through improved space usage or increased storage capacity.
It must incorporate an interior design plan that reflects the needs, style, and budget of the homeowner while also improving storage potential of the room.
It must add beauty to the space through thoughtful layout, hand-selected accessories, customized finishes and elegant lighting design.
Closet Factory has been designing custom walk-in closets for more than 30 years, so our designers know how to create the perfect custom walk-in closet solution for any room or any space. While most DIY closet systems may work temporarily, a truly customize closet will last a lifetime, evolving with your needs while constantly bringing beauty, organization, and convenience to your life.
To better understand what are the key features of a custom walk-in closet design, Closet Factory designers have assembled this quick list to help you cover the bases when you are designing your own custom walk-in closet.
Custom Walk-In Closet Design Features
Cabinet and Shelving Options
Multiple length hanging sections to accommodate a variety of wardrobe combinations.
Shelving units can range from 12″ to 24″ to provide true customization.
Open shelving above hanging sections work great to showcase hats and handbags.
Slanted shelving with clear or metal toe fences elegantly display shoes.
Drop-in jewelry inserts and velvet lined display shelves showcase prized jewelry and accessories like a boutique showroom.
Drawer Options
Walk-in closet drawers can be designed for anything from sweaters to lingerie.
Custom closet drawers can be designed with beveled, five-piece, or routed faces.
Under-mount hardware and quiet, soft close slides ensure easy drawer opening.
Open cubby shelves or see-through drawers with Lucite dividers create a beautiful hat and handbag storage design.
Custom made single or double layer jewelry drawers offer plenty of room to elegantly display valuables and accessories.
"Secret" jewelry and accessory drawers can provide additional security and a special layer of customization.
Finish Options
Custom walk-in closets use custom stains, paints, or veneers to complement an existing motif.
Custom finishes can include Neo Classical, French, Urban, Shaker and Contemporary themes.
Glass shelving, mirrored backing, decorative molding, and metal accents help create a custom elegance and beauty.
Black or red velvet lined jewelry trays and inserts can be configured in various ways that provide custom storage and protection for jewelry, sunglasses, and accessories.
Lighting Options (Note: Lighting is optional, but adds an important layer for any custom closet.)
LED Strip Lighting.
Overhead recessed puck lighting.
Overhead Chandelier lighting for ambience.
Task lighting to illuminate specific areas of your walk-in closet.
Accent lighting highlight and articulate specific items.