Why More Wall Beds Are Showing Up in Secondary or Resort Homes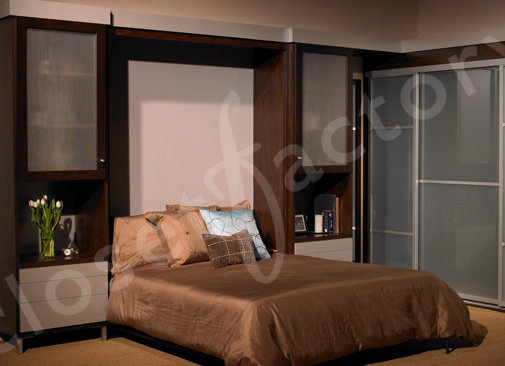 While wall beds are a great space-saving solution for any home, here at Closet Factory we have seen a growing trend of using wall beds in the secondary or resort homes. There are several reasons for this:
1. Secondary homes tend to be smaller and require more "responsible" use of the space. Condos or beach houses usually have fewer rooms and may require certain areas to be multi-purpose. Wall beds are a great option because they take up minimal room when folded away, leaving the rest of the room available as an office, playroom or even an entertaining area.

2. Vacation homes tend to be a gathering place for family and friends, thus comes the need for space to sleep everyone. Wall beds allow for easy access to sleeping accommodations, without requiring the same amount of space as their bulky counterparts. For example, Closet Factory Colorado recently installed TWO Murphy beds (aka wall beds)  in a condo in one of the mountain towns because the owners were hosting a wedding and needed space to sleep many relatives and friends.

3. Closet Factory can create a wall bed to perfectly blend with any home décor. Whether it's Mountain Rustic or Beach Front Cottage, our wall beds can be manufactured to blend right in, giving our clients the function of an extra bed, as well as a beautiful piece of furniture. What more could you want?
To make your secondary home the place to be, visit www.closetfactory.com today to find a location near you!
Find out how you can save money, time and space by downloading your own Personal Closet Inventory Worksheet. Browse our project gallery for some inspiring ideas.