Trends In Built-in Wall Units and Media Centers for the Family Room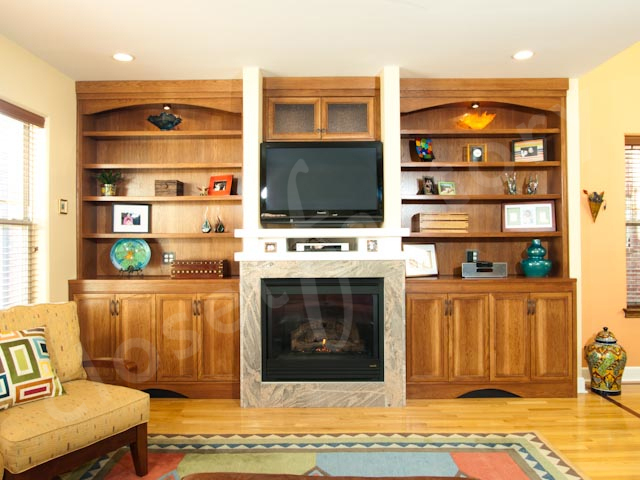 It's where your family comes together – the family room. And because no two family members' activities are alike, custom built-in cabinetry such as wall units have become the trend. It's difficult these days to find that perfect prefab media center or a piece of furniture that will not only fit your wall space but also include a spot for everything else.
Trending in 2011, and is expected to be the same for 2012, is the custom multimedia experience. Custom being the operative word. Wall units now include computer stations that need to live in harmony with a project table for a game of chess or shelving filled with books waiting to be read. And cabinets house scads of CDs, and hold audio equipment without exposing a single wire or cable, making whatever you choose to do in this busy corner of the home a cozy and relaxing experience.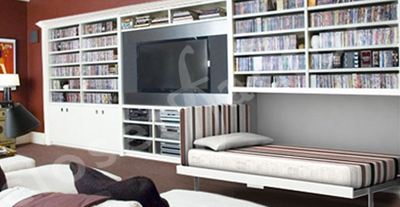 One thing for certain is that the lines have blurred between wall units, computer stations, library shelving and entertainment centers. At one time the family gathered in a room to watch a movie and then retire for the evening. This is no longer the case.
Flexibility is another trend. Family rooms that double as your kids work space by day featuring roll out desk tops that can be tucked away by at night. Furthermore, flexibility can even include a Murphy bed built in as well turning the family room into a guest space when needed. No matter your needs our Designers work with you to create a space that will appeal to the entire family.
Get a FREE entertainment center design consultation and find out how a custom design entertainment center can enhance your television and music experience. Don't forget to check out our Web Promotions page for deals and discounts on all of our custom closet products and installation.