Top-3 Essentials of Any Home Office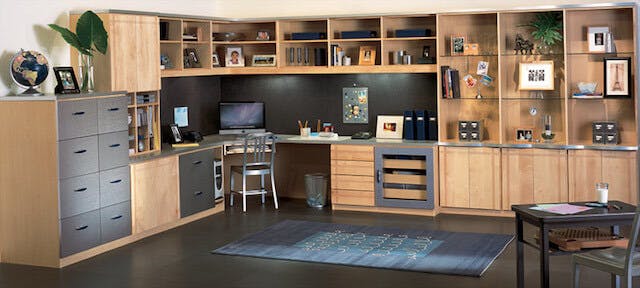 A home office is an underrated, yet essential part of many lives. After all, this is the place where deeds get done, bills get paid and feline-inspired YouTube videos are watched. Hey, everyone needs to take a break from the grind every now and then, right?
A common question among those with a home office or for those looking to install a custom office concerns the essentials of the space. Naturally, what is – and is not – essential is completely arbitrary as the needs and wants of each person can differ entirely. But, therein lies the beauty of a custom office; the office design is created to your exact specifications and only with your desires in mind.
But, there are a few absolute essential for every custom home office and in the name of all things efficient, we've taken the time to list them below for you. You're welcome.
1 – Wall organizers: Quite often, a custom office occupies a small area of a home, so it's important to keep it as clutter-free as possible. Sturdy shelving and cabinets can help you keep your work area organized, which allows you to get the job done efficiently.
2 – High-quality cabinetry: Not only does high-quality, custom cabinetry blend seamlessly into your space, but it also stands the test of time. We've come a long way from those metal filing cabinets of yesteryear and today's options are functional, strong and stylish.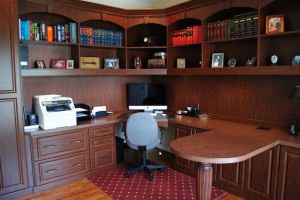 3 – Smart storage solutions: A disorganized home office is an unproductive home office, which is the exact opposite of what you want your space to be. Storage solutions like adjustable shelving, pullout trays and even a keyboard arm – that tucks your keyboard away when not in use – are just a few great accessories you can add to keep your custom office organized and conducive to productivity.
There are other important items of a home office including a sensible desk, proper lighting and a comfortable chair, but the three must-have items listed above simply cannot be ignored. So, when you're collaborating with your designer on an office design, ensure that these fundamental necessities are checked off your list and your custom office will be ready to load those kitty-cat YouTube videos in no time at all.