Top-10 Tips to Guarantee You A Hassle Free Thanksgiving Dinner
In preparing for your Thanksgiving meal, the room besides your kitchen that gets the biggest workout is your pantry. One of the best ways to plan for a large meal and extra guests is to have an organized pantry so you can save time and money. When you are organized, you know exactly where all your ingredients are located, which means you won't buy groceries that you already have. C'mon, we've all done it.
While you are organizing your pantry, keep in mind that the advantage of having a custom-designed pantry is that it creates easy access while providing a variety of kitchen storage solutions that puts all your Thanksgiving materials within easy reach. A well-planned space will enhance your lifestyle as even small closets or storage spaces can convert into an orderly pantry when you make the best use of the space you have.
A professional closet designer can look at your needs and recommend how to maximize the space in addition to suggesting accessories that will make your everyday cooking life a little easier.
But we don't have time for that right now, so here are 10 great tips to help you prepare a stress free Thanksgiving dinner:
1 – Make a list of the items and ingredients you will need. As you clean out your pantry, you can keep track of what you have and what you will need.
2 – Start with a fresh canvas. Take everything out of the pantry and throw out all expired and old items. Use this opportunity to clean the empty shelves and reline them with shelf paper if needed.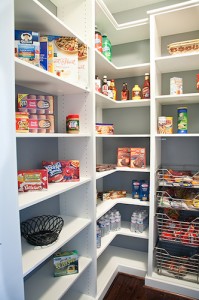 3 – Sort the remaining food into items to be donated, which includes food that doesn't fit your current diet (or shouldn't be in your diet) and items you don't really use. This is also the time to set aside your Thanksgiving ingredients for use later on.
4 – Group the items you are keeping into various categories such as canned foods, baking, pastas, breakfast, beverages, rice, snacks and condiments.
5 – Put all your spices together and in one easy to reach place whether it's a spice rack or a storage container. Spices and other go-to items need to be easily accessible and kept together at all times.
6 – Store your meal staples, and the foods you use most, together and keep them at eye level or where it's the most easily accessible. This way you don't have to fumble around, and you'll know when it's time to replace an item. Bulk or large items should be stored in the back and at a lower level.
7 – Organize pantry items with storage containers and a few basic accessories like a Lazy Susan or pullout racks to provide visibility and easy access while baskets and bins can serve to make the most of your pantry space.
8 – Clean the floor and then keep it clear just as you would in a closet. Any blocked access to what you need easily creates unwanted clutter.
9 – Keep a grocery list nearby, so family members can add to it as needed. This makes it easier for the person who grocery shops.
10 – Do an inventory of the Thanksgiving ingredients you set aside and make a list of what you will need. If you don't have room to leave the items aside, put them back in their respective categories but toward the front, so when you get down to cooking they will be easy to find.