The Tools Used in the Art of Organization
It may be an odd concept to think that organization and Picasso have anything in common especially since Picasso's art can be somewhat chaotic. However, both endeavors require creativity, imagination and technical skills. At Closet Factory, we view organization as an art and just like any work of art, an artist's tools play an important role.
When it comes to closet organization, accessories are integral in the overall design of a custom closet. They are the little details, the finishing pieces that are integrated into your custom design, so that the closet can fully serve your organizational needs.
Closet organizers like Lucite drawer dividers, belt racks, pullout valet rods and fabric-lined jewelry drawers are just some of the tools we use to ensure that all your prized possessions are stored properly. For example, Lucite drawer dividers come in variety of shapes and sizes and have many uses. For those who don't want to hang their ties, they can be used as tie dividers so that each tie has their own compartment. These dividers also work well for bracelets or other small items that need to be stored individually. We also have larger Lucite drawer dividers that can be used to keep folded clothes in their place, and Lucite purse dividers to store your handbags properly, as well.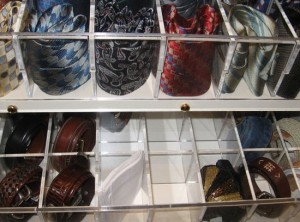 For jewelry, our fabric-lined, compartmentalized jewelry drawers help to not only organize your baubles, they also present them in an attractive way. If you only need a small storage space for your jewelry, we also have jewelry inserts that can be custom made to fit into any drawer. If belts are your thing, we have various types of belt racks that will hang your belts properly and keep them organized. We can even insert an ironing board for last minute touchups or put a laundry basket in a convenient place.
At your in-home design consultation, your designer will listen to your needs and show you all your accessory options. In addition, most accessories are available in various finishes and colors to complement any closet design. Whatever your accessory passion, we have a storage solution to accommodate taking care of your most precious collection. And if you have something unique that you need a storage solution for, don't be shy about discussing it with your designer. Chances are they will have many great ideas about how to accommodate you!