Stylish 2017 Design Trends You Won't Want To Miss Out On
2016 was the year of tranquil color palettes, metallic accents, and clean lines for homes across the country, and while some trends will continue to be popular, others are primed to take center stage.
Here are the 2017 design trends you won't want to miss out on.
50 Shades of Green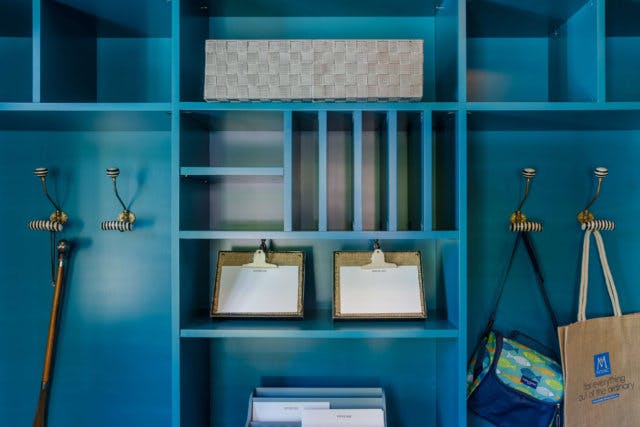 Expect colors like emerald and other vibrate hues of green to start popping up in all of your friends' homes. Green communicates growth and harmony, and can rejuvenate any room because it creates a sense of connection to the natural world.
Closet Chandeliers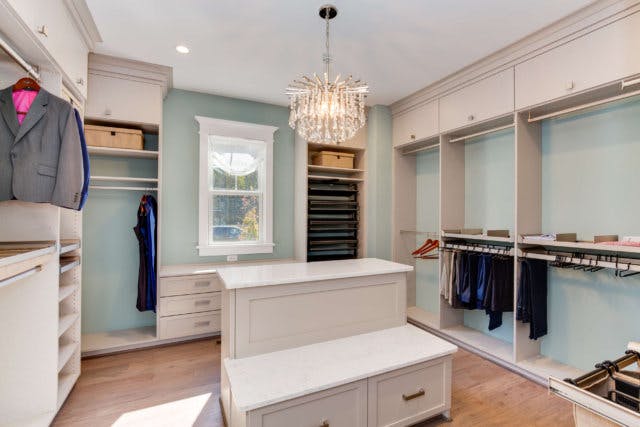 Incorporating a chandelier instantly transforms any walk-in closet into a boutique shop. With a variety of styles available, a closet chandelier helps set the tone for the space, whether you want that to be comfortable, modern or shabby chic. This level of personalization is key for homeowners who are shying away from off-the-shelf solutions, opting instead to design spaces that speak to their unique tastes.
Comfy Nooks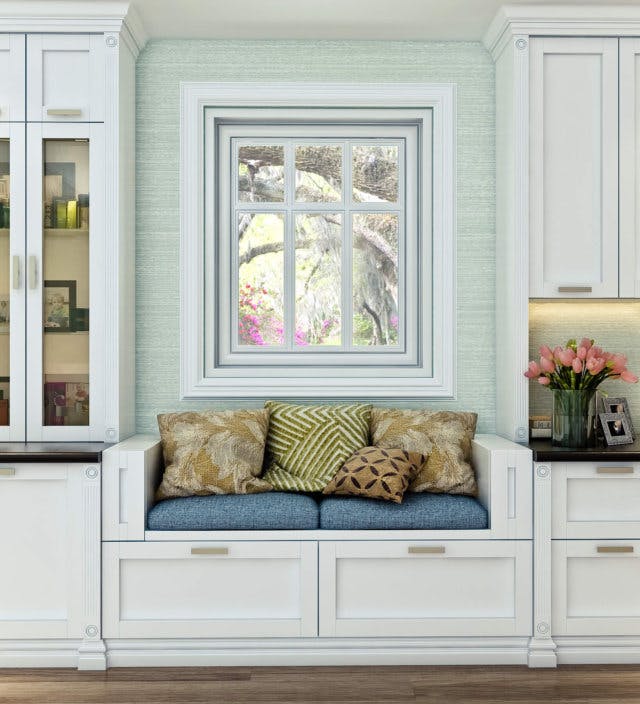 Window seats and benches are the perfect 'flex' furnishings for the home, turning hallways and underutilized spaces into multipurpose hangouts. From reading nooks to mudrooms and dens, every home has the potential to incorporate at least one window seat, adding style to an existing space and practical storage for the whole family. Areas like these are what help new houses start to feel like a home. No longer design for design sake, comfy nooks with a purpose can truly nurture the soul.
Rustic Wood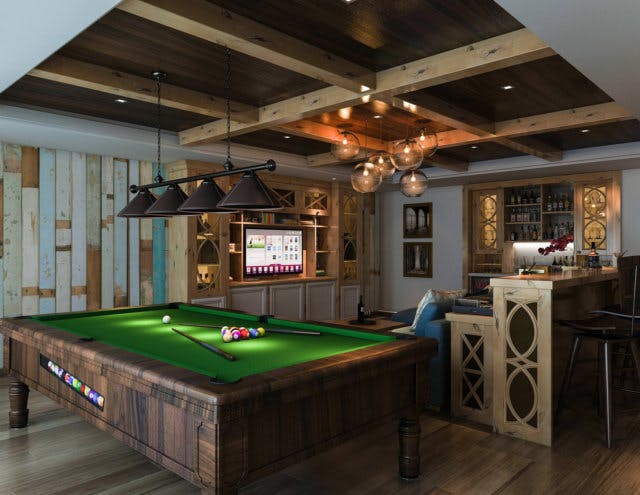 Rustic wood finishes will be one of the most unexpected 2017 design trends, as the English cottage look becomes more prevalent in American homes. Maple and cherry are known for their natural patterns and prominent colors, and since both are available in cost-effective wood grained and stained melamine alternatives, they've become accessible to more homes than ever.
Home Bars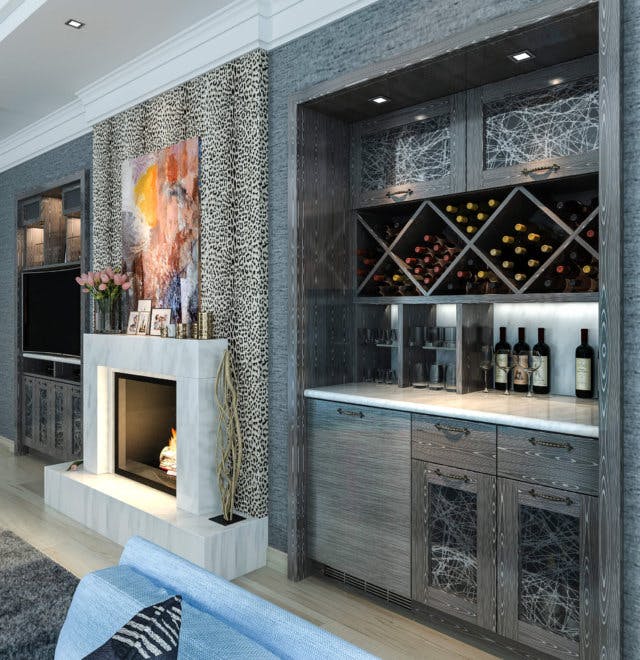 You may remember the popular 'bar cart' trend of 2016. Taking this idea a step further, homeowners are starting to look for more permanent solutions for hosting guests. From home bars built into living room enclaves, to finished basements becoming the new Cheers, homeowners are making these spaces a focal point of their entertaining efforts.
Metallic Finishes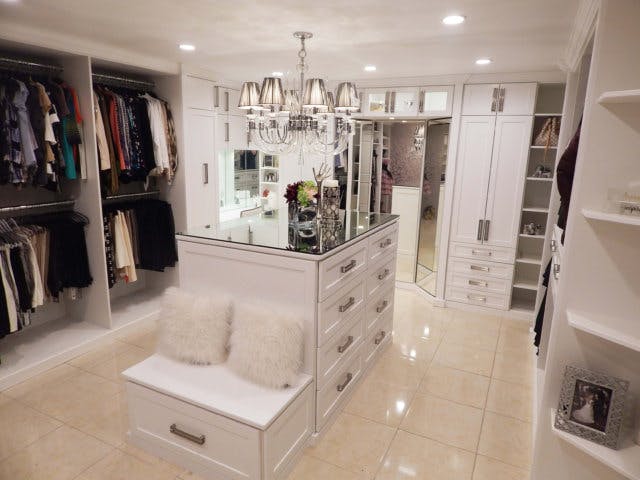 Metallic finishes to continue to be a hot trend in 2017. From soft copper and gold tones to more modern touches like steel and chrome, metallic finishes have a way of blending well with existing home décor, which appeals to homeowners looking to update spaces on a strict budget.
Intricate Mouldings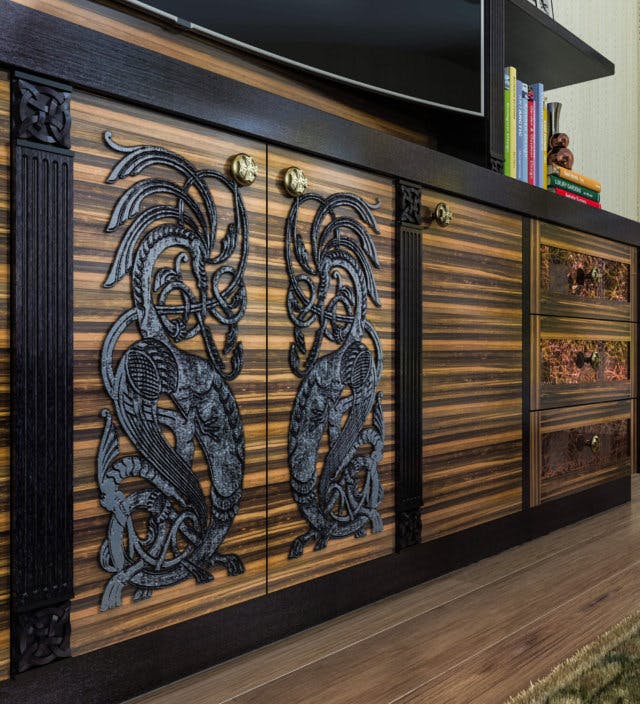 Whether it's onlays, arches, or cornices, mouldings create elegant texture and depth in any space. Entertainment centers, in particular, as expected to benefit from this 2017 design trend, since mouldings are a construction-less way to breathe new life into an old living room.
Glam Rooms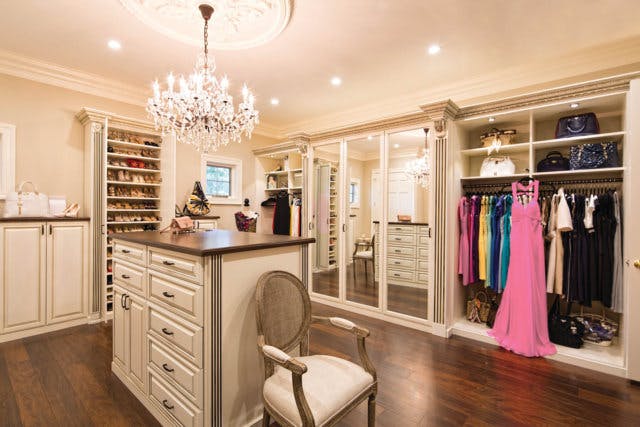 In one of the more dramatic design shifts, the clean, minimalist lines that dominated 2016 are giving way to more ornate interiors and home additions. From rarely-used guest bedrooms turned dream dressing rooms, crystal hardware, to rolling ladders in the home office, conservative is out – glam is in.
Marble (Real & Faux)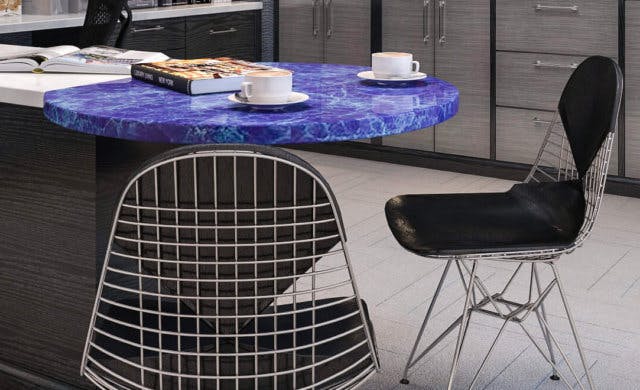 Although some experts predict that marble is on it's way out, we believe that bold shades of the timeless material will once again be a popular choice amongst homeowners. From countertops, flooring, as well as in everyday home decor like serving platters and vases, the availability of realistic, affordable faux marble is enough to sustain the trend.
Tech-Integrated Spaces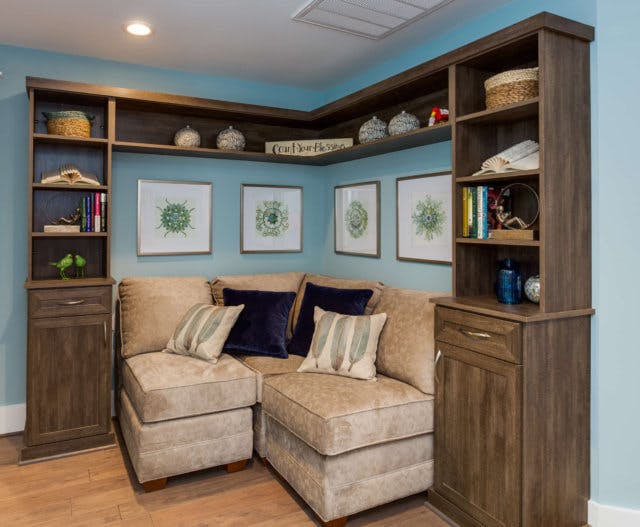 Home offices that seamlessly integrate with the most up-to-date gizmos and gadgets are on the rise, and for good reason, as technology has made telecommuting easier than ever. Desks and office wall units with built-in LED strips, power adapters, concealed compartments, and multimedia capabilities should be at the top of every entrepreneur's 'Must-Have' list.
Tech-Free Spaces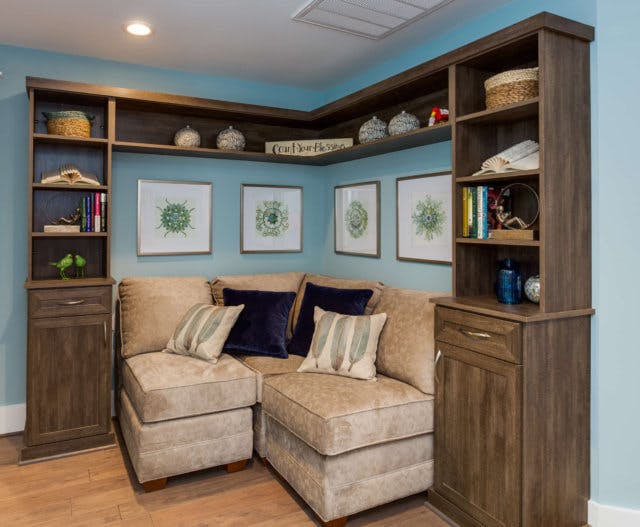 "But… you just said tech-integrated spaces would be trendy!"
With technology running rampant through our everyday lives, homeowners are creating getaways for some well-deserved unwinding. Whether it's a master bedroom closet or a special corner of the family den, the goal is to create a space that breads peace and quiet. Sink into a corner couch with plush pillows to escape the noise of email and social media, if only for a 10-minute cat nap.
Velvet Fabrics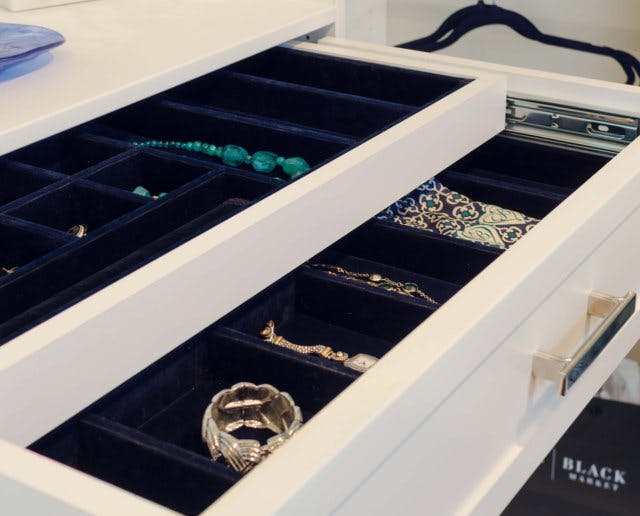 Velvet isn't just one of the hottest fashion trends right now – it's officially invaded the home. Be on the lookout for velvet fabrics and smooth textures to slip their way into your closet drawers, throw pillow pile, and more.
Wine Tasting Rooms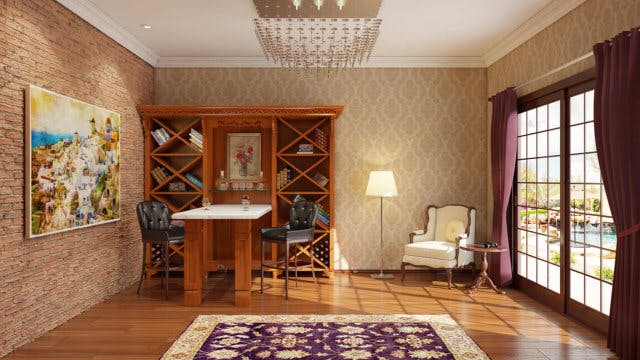 As wine collecting has made its way into suburban America, homeowners want more than just a climate-controlled cellar or closet; they're designing tasting rooms complete with wine cubbies, fridges, and seating for two or more guests. After all, why invest time into a collection if you're not able to show it off?
Natural Textures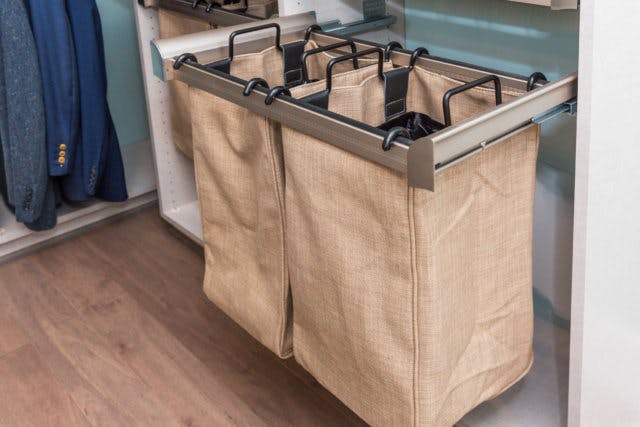 With the world collectively moving towards sustainability and eco-friendly practices, it's no wonder why natural textures are a staple of trendy interior design. Materials like bamboo, which is known for its longevity, age more gracefully, providing homeowners with more bang for their remodeling buck. Textured natural fabrics such as leather, cotton, and linen are also going to be popular embellishments.
Mid-Century Design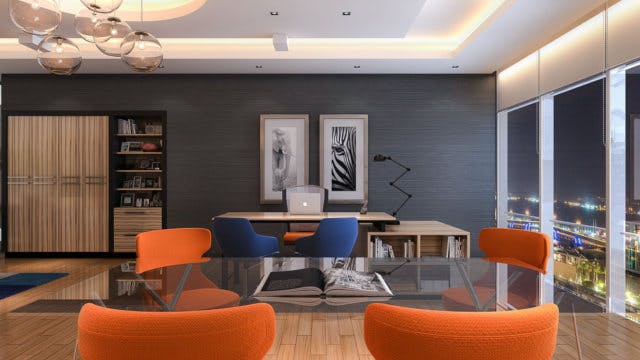 The need for spaces to provide both form and function is the driving force behind the move away from contemporary home design. We predict that the Mid-Century aesthetic, which emphasizes the extraordinary aspect of ordinary layouts, will be one of the most popular 2017 design trends.
Pantry Accessories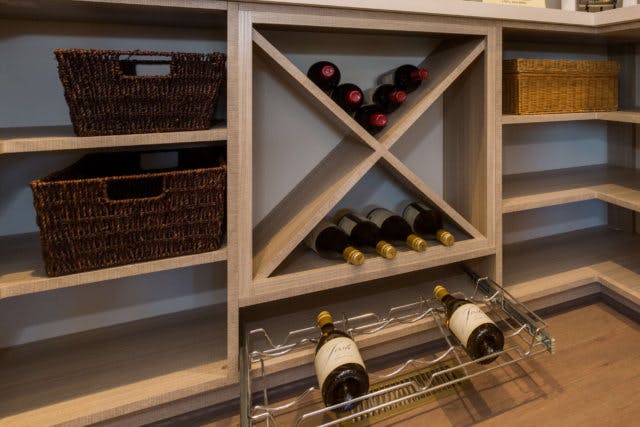 With the surge in demand for kitchen storage, walk-in pantries are now a major draw for potential homebuyers. However, deep shelves and drawers have a tendency to result in forgotten inventory, and so stylish accessories like wire and cross hatch racks are perfect for keeping the pantry organized.
Jewel Palettes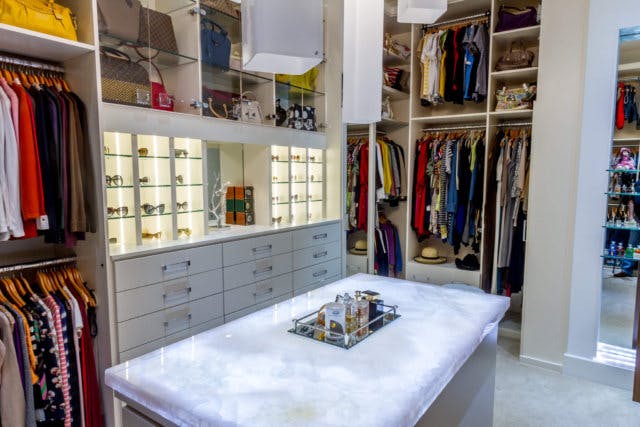 Trendy homeowners are always on the lookout for new color palettes, and in 2017, they'll be adding intimacy and intrigue with jewel color palettes. Materials like Lucite, quartz, and opal offer this soft tone while providing an extra 'wow' factor with just the right amount of sparkle.
Don't forget: professional designers frequently mesh different trends together, so liberate yourself and bring your vision for your home to life! Want to get started?