Six Reasons to Meet Your Designer at the Showroom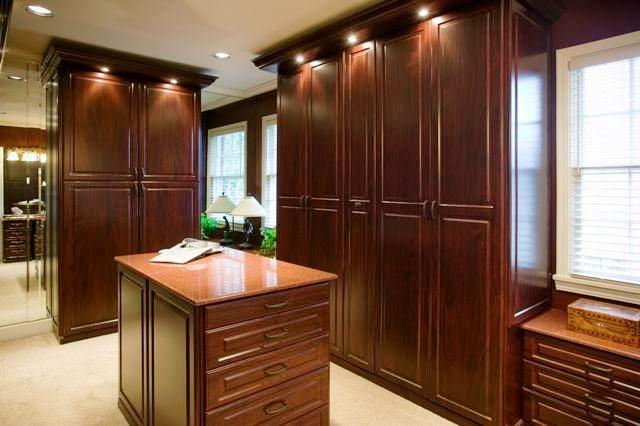 Now that your personal closet designer has visited your home, and created a custom closet design based on your needs, the next step is to meet with your designer at the showroom. So, instead of having to visualize a closet design – you can see it in person. Sometimes one meeting isn't enough to finalize your custom closet design and since there are so many choices with customstorage solutions, seeing all of your options firsthand will give you a better idea of how a custom closet looks and works.
Here are six more key reasons to meet your designer at the showroom:
1 – The 3-D Experience: No matter how beautiful the photographs and samples are, nothing beats seeing in person how a complete custom closet actually looks. You get a better sense of the size of the storage systems and the opportunity to pull out the drawers, adjust the shelves, open the cabinet doors and so forth.
2 – Touch It, Feel It: In the showroom, you can have a hands on experience in feeling the quality of the wood grain and seeing how the various finishes look on a full-size closet system. You can also touch and experience the quality of the accessories, the hardware, any add-ons, and see custom options like crown moulding and embellishments in person.
3 – A Better Understanding: When you experience a closet system in person, you get a better understanding of how structurally everything works. Your designer can show you the detailed craftsmanship, point out how precisely the corners come together, and by using the samples, they can demonstrate to you how they've designed your closet, so that all the space is completely being used.
4 – Educated Comparison: Some customers can't decide whether to add backing to their closet system or just leave it open using their closet wall as the back. At the showroom, you can see examples of both types of backing, which gives you an educated comparison that will lead to an educated decision.
5 – Meet the Team: When you visit the showroom, you not only get to know your designer and their expertise better, you also can meet the rest of the team. From the storeowners to the customer service department and the installers, you can meet who will be taking care of your custom closet order. And since most factories are located close to the showroom, you can even see how your custom closet is made.
6 – Get Inspired: Visiting the showroom is a great way to get inspired for your own design. Perhaps you'll see something in person that you could only previously visualize, but in person, you realize a certain accessory or storage unit is what is going to make your system complete. And since custom storage units are also used for entertainment centers, home offices and garage storage, you might get ideas for upgrading other rooms in your home.
When you work with a custom closet designer, it's a collaborative effort that revolves around your storage needs and style desires. Every step of the design process contributes to creating a custom closet that's right for you, so don't hesitate to visit the showroom with your design partner to fully understand why you made the right decision in getting a custom closet.