Shoeaholics: A Closet of Their Own
Yes, there are various storage devices out on the marketplace designed to house shoes. You can get commercial shoe cabinets, over the door shoe organizers, hanging shoe organizers, plastic shoeboxes, but the fact is, real pros go custom. Hardcore shoeaholics know that in order to really take care of their babies, they need to have something that not only displays them properly but because of their sheer number, they need to maximize every inch of their storage space.
One of the latest trends in custom closet design is to have a room dedicated solely to shoes and an increasingly popular look is to create a shoe closet that resembles a high-end boutique. The design of this specific shoe closet is made up of multiple sections of shoe shelves that are either flat or slanted with toe stops to provide enough storage to display a vast collection.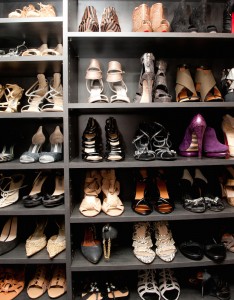 To highlight individual shoes, you can also have a custom-made closet section with cubbies that have a mirrored back, pin lights and Lucite dividers. A variety of finishes like white lacquered shelving with mirrored backs can be used to give the closet a modern look, but for a country cottage look, add slat raised paneling to doors and drawer fronts. The closet is then stylized with lighting fixtures, accessories and a comfortable chair to finish off the boutique look.
Another popular way of storing a massive shoe collection is a library look where the walk-in closet is made up of floor-to-ceiling shoe shelves. This shoe closet is mostly made up of shoe shelves that allow one to catalog a big shoe collection, which gives you the feeling of being in a shoe library.
When it comes to shoe shelves, a custom closet company offers you the most choices that best fit your needs. Slanted shoe shelves with toe stops are aesthetically pleasing and present shoes in an easy-to-see manner, so you can pick a pair at a glance. However, flat shoe shelves are adjustable and allow you to change them based on the height of your shoes, so your boots have all the room they need to stand tall. Add crown molding, decorative baseboards, a mirrored door and built-in vanity and you can take your shoe library to a whole new luxurious level.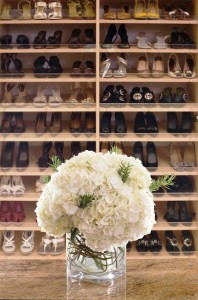 If your shoes must share space with the rest of your wardrobe, make sure they have their own area in your walk-in closet. In order to maximize your closet's functionality and create a useful line of sight, every part of your wardrobe from clothing to shoes to accessories needs to have their separate and individual places. To store shoes in a custom closet system, shoe shelves can also be utilized along with storage cabinets, sliding drawers and even a shoe Lazy Susan.
Since closet space is valuable, a sliding drawer will take advantage of the depth of a walk-in closet and utilize every inch of space. With a shoe Lazy Susan, no shoe ever gets forgotten because with a turn, you can see every beautiful shoe you own. Keep in mind, men can also be shoeaholics and collect as many shoes as women, especially sneakers. Since men's shoes usually take up more space than women's, in a walk-in closet, it's important to utilize any unused space to create shoe shelves for more storage.
Many people believe that if you don't see your shoes, you won't wear it. So, make sure all your meticulously acquired footwear is front and center in a custom made closet.