Sasha Lazard's Closet Story Debut – Child's Closet Organizer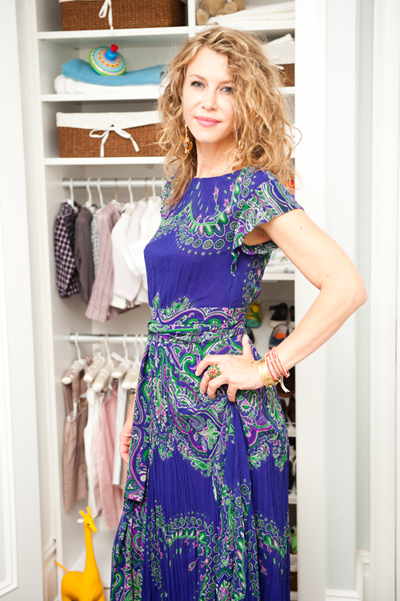 Sasha Lazard standing in front of her new child's custom closet organizer system.
We've all witnessed the results of what happens to the space around us when life gets busy – piles accumulate, things get lost, and disorder is inevitable.  So how do women like Sasha Lazard do it? Busy producing her fifth album as a soprano, raising two boys, and living a social life in New York City, Sasha called in the experts at Closet Factory to bring a little order into her life by designing her youngest son's closet.
"The process of creating a design for a child's closet is a bit different than an adult. I had to consider how the space will work as the child grows and how it serve the child's needs later.  The great thing about creating a kid's design using our closet systems is that they are all totally adjustable.  The rods and shelves can all be moved up and down, so as the child grows and their wardrobe changes their closet can be adjusted accordingly.  This was extremely important for this closet as Sasha's son is still a toddler.  The existing closet had shelves on one side with very tall openings and one set of double rods on the other side.  Unfortunately the rods and shelves were all stationary and built for an adult, which left lots of empty, unused space.

What I wanted to do in this closet is to create flexibility and provide a place to store other things now and later such as toys, blankets and bins.  I like to create one area in a child's closet that has shelves to allow for such storage. As he grows, the rods can move up, and the extra shelves be removed.  On the right side of the closet I put shoe shelves for his very cute shoes, and additional shelves for storage, which can be used for baskets, bins, toys, or blankets.  I used baskets to place small items such as t-shirts and hats.  This keeps them neat and still provides easy access." – Kay Wade, VP of Design & Head Designer for Closet Factory
Working closely with the closet designers, Sasha aimed to create a closet that could organize her son's clothes by season and type. Dress clothes needed to be hung up, and she wanted all his shirts on one rack and pants on another, for easy outfit pairing.  Previously his sweaters had been jumbled in a drawer, and she craved a place where they could be folded on shelves and easily visible.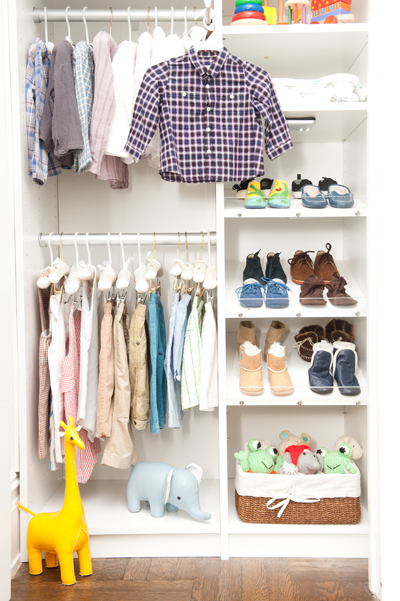 And what were the results? In Sasha's words: "I adore it!! As my life becomes busier and hectic, I strive to be as organized as possible. I want my home to feel serene and orderly. I love being able to see what he has. The new closet inspired me to pare down to the minimum."