The Right Design for Any Space
Closets, closets, closets! My better half and I have been on the hunt for an apartment and closets have been the primary focus. While I've been concerned with obtaining enough square footage to live comfortably in, she has been concentrating on finding an apartment that can fit all of our stuff – and she has a ridiculous amount of stuff.
From the 30+ apartments we have looked at, only a few had small walk-in closets and most were equipped with one or two very small reach-in closets. Moving in together for the first time is a big step, and not having enough space for our stuff can become a big issue. Especially when it comes to finding a way to organize all our clothes into small spaces.
However, I've never worried about our closet space, or lack thereof, because I knew that no matter what apartment or home we chose, I was going to surprise her with the perfect custom closet organizer specifically design for our space and our needs by the Closet Factory. And, I know how much is possible when you have the Closet Factory involved in your design.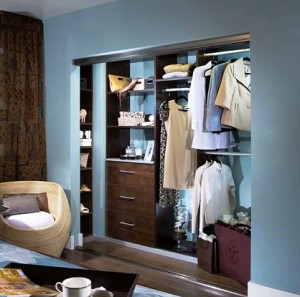 As we looked at apartments with reach-in closet systems, I tried to explain how easy it would be to double our storage space with a custom reach-in closet that would organize everything we needed to put into the space. I mentioned that by adding a mixture of hanging rods and shelves we could create enough space for us to lead a more efficient and better-organized life. We took a look at the galleries of closet organizers and she became excited. She started to understand that the possibilities were endless, no matter what new apartment we chose. After that, looking for the perfect place to call our first home became a lot easier.
But, that's what you get from the Closet Factory. They take care of everything from design to installation, so they don't just upgrade lifestyles; they make it easy, too.