A Retail Display Inspiration Turns Into an Elegant Armoire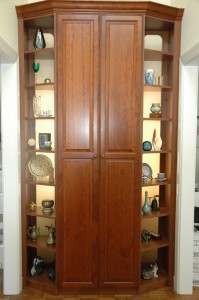 By: Sarah Tiani of Closet Factory Raleigh
I had some clients a couple of years ago that were a lot of fun. They always had great ideas that stretched our capabilities and gave us creative solutions to their spaces.
The client had no coat closet in their front hall, and really wanted a customized storage unit that would store some of their artwork as well. We came up with the solution for an armoire in the front entry in a dark recess. We were going to do shelves on each side. The client wanted to light the shelves so that you could see the artwork better, but we struggled with an idea of how to best do that.
They happened to be at a local drugstore and saw a makeup display that was lit from behind. Since we had a bit of space on each side of the armoire, this was a great solution. The ceiling was actually 12′ tall, so we did the back of the shelving section so that the lights could be replaced. We used frosted Lucite backing recessed into door frames. This gave the light a soft glow without being overpowering. Now, people can't believe that there is no natural light in that corner, because it looks like it is naturally lit! The client is thrilled and it ended up being a very elegant wooden piece  that is a showpiece in their home.
Learn how to beautifully organize your closet. Download your own Personal Closet Inventory Worksheet and browse our project gallery for some inspiring ideas.