Important Things To Consider When Redoing A Bedroom Closet
Making the decision to redo your bedroom closet is one you should be proud of, as the rewards you reap will last you a lifetime.
You're essentially given a blank canvas and an easel to create your art of organization. It can definitely feel overwhelming because of all of the possibilities, but a designer collaborates with you every step of the way, so rest assured you're in good hands.
Even so, there are a few things to think about and prepare before starting the whole process. Remember, you want to make sure that you design the perfect bedroom closet, so being meticulous and on top of things is key!
You might be thinking that a new closet will accommodate all of the items that you already have, and that is absolutely true. However, great organization doesn't involve clutter and chances are that pieces of clutter exist among your belongings. Clutter can include old accessories and clothes that you simply don't wear anymore.
Not only do you want a good closet, you also want a closet that will help you be a better-organized person. Consider purging pieces of clothing that you don't wear or being a Good Samaritan and donating them. After all, you want your closet to look great holding the clothes that you actually wear.
What to consider when redoing your bedroom closet
There are several common configurations to bedroom closets. For example, there's one that looks like an L where the door is on one half only and the rest of the closet is only visible by walking in. If you have one of these closets, a key point to think about is how you want your clothes to be displayed.
If you plan to have a hanging rod that displays all of your shirts and blouses, you're going to want to have that rod installed right in front of the door for easy access, while other less-frequently worn items can go deeper into the room. It really is just standing in front of your bedroom closet and imagining how you'll use it.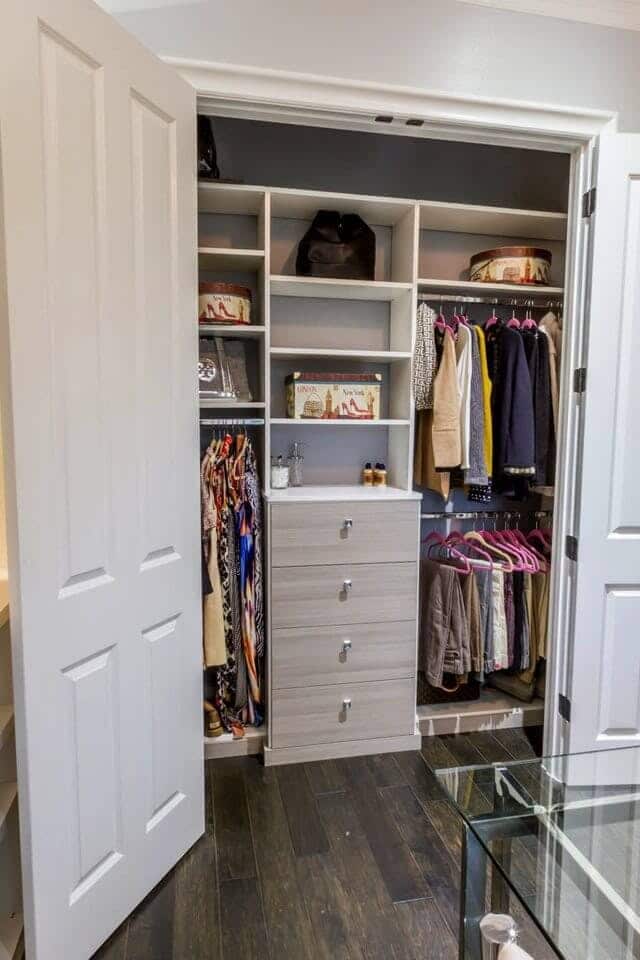 Are you the type of person who rotates clothes based on seasons? Maybe you'll want to design a closet system that makes it easy to swap out items. Also, maybe you aren't exactly the tallest person out there and need shelves that are adjusted to your height.
Only you know what you need and some careful planning will allow you to create a bedroom closet design that you'll be proud of.
Transform your closet space with a design that's been customized around you and your wardrobe. Find out more.