How To Pick The Right Wine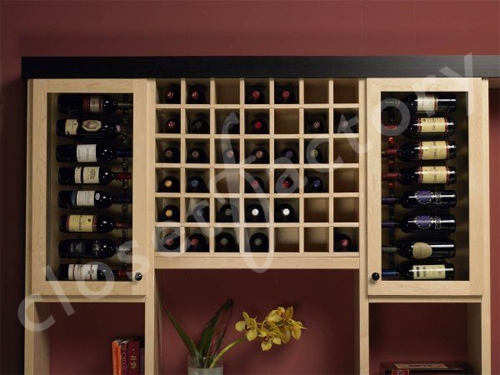 The holiday season is officially here and most people look forward to entertaining and impressing their guests. Being a self proclaimed wine connoisseur a major aspect of holiday entertaining for me is having the right wine selection paired with complimentary cheeses, hors d'oeuvres, dinner and even desert. Not everyone understands the difference between the various reds and white wines, or even which is the best choice for a given meal. Picking the right wine to accompany the food on your menu can really enhance the flavors in the food you serve. Here are some ideas on how to make the right wine choice for your holiday guests.
WHITE WINE
Chardonnay: Usually a medium to full-bodied, dry wine. Poultry and game birds, veal and pork, rabbit fish and pasta preparations which feature cream and/or butter, mushrooms.
Sauvignon Blanc (Fumé Blanc): Medium to light-bodied and dry. First courses, seafood, ethnic dishes—pastas, curries, salsas, spicy sausages, vegetable dishes, luncheon salads, olive-oil based dishes, tomato sauces, goat cheese.
Chenin Blanc: Light to medium-bodied, normally off-dry to semi-sweet. Braised Chicken, sushi and other Oriental dishes, poultry, pork.
Gewürztraminer: Light to medium body, usually semi-sweet, occasionally off-dry. Spicy cuisines such as Chinese, Mexican, and Indian, mild sausages, fruit salad.
Riesling (Johannisberg Riesling, White Riesling): Light to medium bodied, semi-sweet to off-dry. Crab meat, appetizers and finger foods, pork, salads.
RED WINE

Cabernet Sauvignon: Medium to full-bodied, tannic and dry. Beef, lamb, pork, duck, game meats, cheeses.
Merlot: Medium to full-bodied, less tannic than Cabernet, dry. Beef, lamb, pork, duck, game meats, cheeses, stews, pizza, heart pastas.
Zinfandel: Medium to full-bodied (also made in a lighter style), dry. Hamburgers, beef, lamb, venison and game, hearty pastas, turkey, stews, pizza.
Pinot Noir: Medium to light-bodied, dry, little tannin leaves silky texture. Lamb, duck, turkey, game birds, beef, rabbit, semi-soft cheeses.
SPECIALTY WINES
Pink Wines (Rosé, White Zinfandel, Cabernet Blanc, Blush, Blanc de Noirs): Vary in color and sweetness. Choose the most current vintage. Best with smoked foods, quiche, pork and ham,Mexican and Thai food. Can be served with all food.
Sparkling Wines/Champagnes (méthode champenoise / fermented in the bottle): Crisp and bubbly. Types are Brut, Blanc de Noir, and

Brut: Dry. Traditionally a blend of Pinot Noir and Chardonnay. Aperitifs and first courses, fruits and nuts. Fuller bodied variations go well with any fish and chicken.
Blanc de Noir: More fruity than brut, but still dry. Aperitif, with lunch, desserts.
Blanc de Blancs: More delicate than brut. Caviar. Anytime.
Highly Recommended Holiday Wine Gifts
A bottle of wine makes a nice holiday gift for almost everyone, friends, family and in some cases business associates. Wines can be found in a huge price range to fit every gift–giver's budget via Suite101.com and Food & Wine Magazine.
White Holiday Wine Gifts
2002 White Port-ReZerve from Shenandoah Vineyards is a dessert wine. Brilliant golden amber color. Dried peach, golden raisin, and pear aromas. Medium-bodied with dried fruit, peppery spice, and delicate chalky minerality. Finishes with a drying fade of light tannin, dried fruit and a touch of white pepper. $12.00
2004 Paraiso Riesling is dry with a hint of sweetness, and full of tingly acidity, white peach and green apple fruit from California's Monterey County. $14.00
2009 Riesling-Limited from Daniel Gehrs Wines in Monterey has a delicately floral character laced with the ripe apricots and honey; balanced with modest residual sugar, crisp acidity, and well structured minerality. $19.00
2006 Chardonnay from Hanzell Vineyards in Sonoma Valley with aromas of ripe apple, hazelnut and honeysuckle with a creamy entry and true flavors of lemon custard combine with a long mineral-laden finish. $70.00
Red Holiday Wine Gifts
2008 Pinot Noir from Forest Glen Wines (Bronco), California has a powerful floral, raspberry and strawberry aromas give this wine an exceptional nose.  The palate is beautiful with cherry, strawberry, and red raspberry blended with nutmeg-like spices. $11.00
2007 Pinot Noir from Sebastiani Vineyards, Sonoma County has an intense, lush cherry and strawberry compote flavored pallette accented by vanilla and hints of caramel. The finish is soft with lingering ripe, sun baked fruit and a hint of earthiness. $18.00
2006 Merlot Ballentine from the Vineyards in Calistoga Ballentine's Merlot has initial aromas of black cherry, currants, black tea, raspberries, herbs, and spices. Red apples come into focus next, with a background of pepper, vanilla, and earthy toasted notes, which are characteristic of Napa Valley Merlots. $24.00
2005 Cabernet Sauvignon from the Corison Winery in Napa Valley has a cherry pie aroma that jumps from the glass. Complete with allspice, nutmeg and cardamom, dominates the aromas and flavors with hints of plum, cassis, lavender and dark chocolate chiming in.. $70.00
2006 Insignia-Bordeaux Blend from the J. Phelps Vineyards in Napa Valley. $200.00
OK you wine lovers, curious about the proper ways to store your wine? Stay tuned for a future post discussing how to store your wine and maybe even some storage options. For a listing of the types of wine here are a two great sources: LOVE TO KNOW: Types Of Wine and Matching Wine and Food.
By: Nicole L. Tate