Have You Outgrown Your Home Office?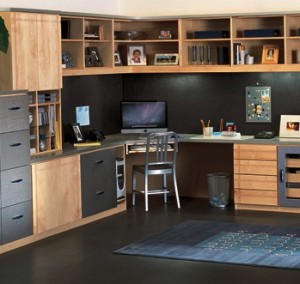 The only constant is change, as they say, and that certainly holds true in the home office design department. The monumental shifts brought about by mobile and wireless technology, cloud computing, online banking and so much more has significantly altered how and where we work.
Chances are that the way you work at home is very different than what your parents and grandparents did, yet the tools are likely the same: a home office desk, a chair, a lamp and a bookshelf or two. The lack of attention given to all your electronics, new kinds of supplies and multiple cords keeps organization at a constant challenge.
It's a good time to take a hard look at the place you conduct business in your home. Is your home office organization keeping up with the way you work?
Rethinking the Home Office Desk
The traditional desk evolved in a different world, where paper and pen ruled. It was made for one person and it was never designed for deep storage. Your desk is more likely just one of many places you land your computer; but you also need more storage and organizing capacity.
Versatility and flexibility are the driving forces behind today's home office. Your favorite desk can be an important part of the picture, but it should be complemented with a custom system of shelves and cabinets that will complete your needs for space and storage.
Built-in Functionality
With increased use of online banking and bill pay, those boxes of statements and checkbook ledgers aren't overtaking your garage anymore. In fact, today's home office can be designed so that whatever filing and storage needs you have are maintained at your fingertips.
You've also traded traditional items like paper calendars and reference books for small electronic equipment, chargers and printer ink cartridges. These modern office staples of various shapes and sizes need drawers, shelves and dividers that are sized appropriately.
If you've outgrown your home office setup and know that your space could be improved with a custom solution we can get you started with a free design consultation. A successful home office means a successful you.
Modern home office design is all about helping you work more efficiently, in a space that enhances the rest of your home. Call for a free design appointment at (800) 838-7995 or use our online form on the right.