Organizing Your Home Office: First You Need a Space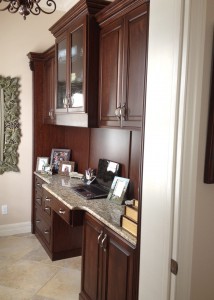 Dorm room, apartment, condo, townhome, house. No matter where you live, a home office of some kind is essential. Having a calm, clean place to work allows you to manage your life better and keep your paperwork, books and office supplies handy.
You've admired lots of beautiful home office designs in magazines and online but the reality is that it's not always easy to figure out the best place for organizing a home office.
Home offices can be an entire room or simply a wall that's been modified with a built-in desk, drawers and cabinetry. A narrow space can be an option, surprisingly enough, as the top photo illustrates. Whether you have a slight alcove indentation or perhaps an area between two pieces of furniture you can fit a custom work space that utilizes the walls for shelving and cabinets.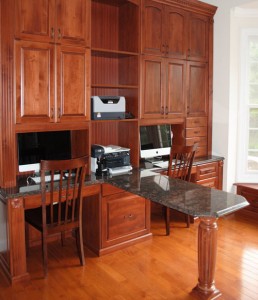 Choosing that perfect spot varies widely depending on available space, traffic flow patterns, noise levels and many other factors. You may want a home office system that integrates a few personal pieces with some added elements that offer more storage while complementing what you have.
My upstairs home office is a small area at the end of the hallway. It's an ideal space because it's removed from the traffic flow and has a pretty view. The challenge is my antique desk, which takes up a lot of room and doesn't hold standard hanging file folders. Fortunately I have a tall alcove on the opposite wall—with custom shelving and a cabinet at the base to create extra storage.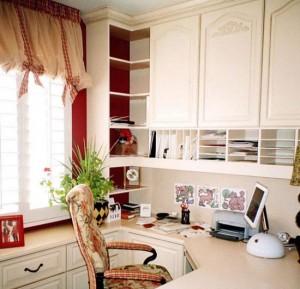 The area formed by two walls coming together is sometimes a good candidate for locating a home office. When the home office is customized to fit in a corner it should be designed with the home's overall décor as inspiration.
Whether incorporating existing furniture, built into an alcove or filling an empty wall, home office designs should make the most of their space. A professional designer understands exactly what it takes to complete the picture, whether it is a built-in desk or floor-to-ceiling sturdy shelving for books.