Organization Made Beautiful
Since the beginning of time, organization has embodied elegance. Chunky, plastic drawers and ugly, wire baskets that hold your bulky winter sweaters and ugly rain galoshes have been used by soccer moms and college students alike to save time and space. Beauty and style were forfeited for function, and disorganization replaced order. Well, ladies and gents, I'm here to shed some light. There is a multitude of ways to organize your house while maintaining excellence in home décor, and many times the two can go hand in hand.
The easiest way to organize and stylize your home is by color. We could recite them at three years old and three decades later, they remain the pillar of all good design. Organize your books, your clothes, even your linens by color to create a modern and thoughtful effect. Call it rainbow chic. And while Moby Dick may be easier found alphabetized than colorized, your little red dress will never go missing again.
In the age of studio lofts and other micro spaces, we don't always have ample shelving, and the kitchen is no exception. Some poor souls have no cabinetry at all, and those that do are often lacking doors. So, what's an amateur chef to do? Glass canisters are a beautiful and efficient way to store all of your dry goods from the pantry without causing an eyesore. Pinto beans may as well be fresh lilies, and now you have a reason to buy that expensive pink salt. Put your sugar next to your flour, then throw in some rigatoni for good measure and voila. Your food never looked so good.
Once your food has solidified its status as edible decor, it is time to move to the dreaded bathroom. Your pedestal sink is still as beautiful today as the day it was installed, but the lack of storage kills the romantic aesthetic. Towels are on the floor, and tissue is stacked behind the toilet. It may be time to bring in some extra muscle. Enter: the stepstool. Beautiful in its utilitarian charm, either with spray paint or bare bones, the stool provides three to four substantial shelves to place all things previously homeless.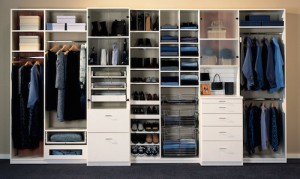 And of course, we can't neglect the closet. Just because the door is closed doesn't mean the piles of shoes and tangled hangers will magically disappear. And for this particular area, sometimes Martha Stewart and Pinterest just won't cut it. Whoever said a closet is sufficient with one shelf and rod was sorely mistaken, and we fashion enthusiasts have been paying the price ever since. The only remedy for the sartorial chaos is a custom closet from Closet Factory with enough room for your entire wardrobe and unique storage solutions.