From No Closet Space to Beautiful Closet Space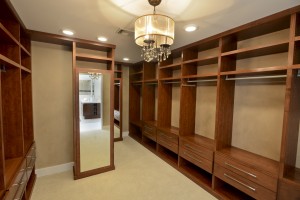 A bank-owned loft in downtown Denver recently underwent an extensive renovation with a major focus of the remodel undertaken by Closet Factory Colorado.
The 4,000 square foot penthouse loft was set for a major overhaul with the intention of flipping and selling it. The property's previous owner had an affinity towards multiple and unnecessary bathrooms; the condo had a total of six bathrooms and no master closet. As all renovations were intended to increase the resale value, the client knew that closets were a necessary feature. Great, usable closets not only make the space more functional, but also make the space more attractive to potential buyers. Adequate closet space frequently tops the wish list of many current homebuyers.
The client wanted to convert one of the master bathrooms into a large master closet and a second large guest powder room into a beautiful, functional storage closet.
The current owner was a previous Closet Factory client, as was her interior designer. The designer suggested working with Closet Factory Colorado again and contacted its co-owner and lead designer, Polly Lestikow.
The goal was to create a compelling and dramatic space to counter-balance and complement the remaining master bathroom. The designer had a photo that depicted the aesthetic they were after and asked that Closet Factory duplicate the look. They decided to match the material stain exactly to the existing master bath to create a warm and unified look for the master suite.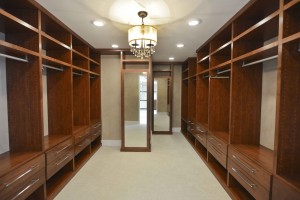 The result is a beautiful master closet and hall storage closet. The warm wood tones are enhanced by the closet system's neutral colored backing. In the master closet, a modern chandelier provides soft light that reflects off the dressing mirrors as well as a focal point for the room. The closet now offers ample hanging and shelving space, along with lower drawers that run the length of the closet. The hall closet houses the penthouse's A.V equipment and offers much needed additional storage.
The client and designer are thrilled with the fabulous new closet spaces and the additional storage that they provide. Great job, Polly and the Closet Factory Colorado team!
Want your own gorgeous custom closet? Call us today for your free in-home design consultation.