National Get Organized Week, Day Two: The Closet
Monday, October 7
Closet Organizing Tips: Caring for Your Shoes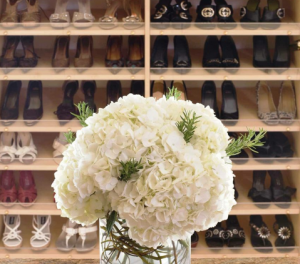 Shoe storage is an important part of how we use our closets. Over time, our shoes get pretty beat up but with a little bit of attention many of them can look as good as new. Here are some shoe organization ideas to freshen up your favorite pairs.
Ideally, you should plan on taking care of every pair of shoes that needs attention. This will take anywhere from a few hours to half a day. Take whatever time you have to clean, freshen and repair.
What you need:
1. New shoelaces
2. Non-gel toothpaste
3. Soft cloth
4. Dryer sheets
Estimated working time: 2-6 hours
What to do:
1. Examine all of your shoes and pull out the ones that need attention.
2. Take the shoes that need repairs to a local shoe repair shop you trust.
3. On the way home, purchase new shoe laces for any athletic shoes with worn-out laces.
4. Spot clean your leather shoes with non-gel toothpaste and a soft cloth.
5. To deodorize ballet flats and other shoes, cut dryer sheets in half and tuck into the bottom of the soles.
See our tip from Day One: the pantry
Like us on Facebook to get daily tips.