Who is Murphy and Why is His Bed Famous?
Yes, there was a real man named Murphy, and he did invent the innovative wall bed that can be pulled down or stored upright against the wall. In places where real estate is expensive and space is limited, Murphy beds are the perfect solution. Not only do Murphy beds help you multi-task a room to be a home office and a guest room, the modern Murphy bed provides as much style sizzle as it does space-conscious storage solutions.
Now, what about Murphy the man? His name was William L. Murphy and he was a son of a 49er (a miner, not a player on the football team) who wound up renting a small room in San Francisco at the turn of the 20th century. The bed took up most of the space in the small room, which made having company – especially a special lady friend – rather difficult. The morals of the time frowned upon having females in one's bedroom, so Murphy began toying with the idea of how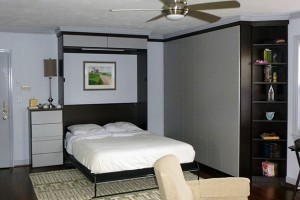 to entertain in one room. He eventually came up with the folding bed idea to easily convert his bedroom into a living room and voila, the Murphy bed was born.
Before Murphy's time, folding beds had already been around in other forms dating back to Thomas Jefferson who hung beds on ropes and hooks in the alcoves of the bedroom in his Monticello home to make space. The African-American registry lists inventor Leonard Bailey as having the first patent for a folding bed in 1899, but, Murphy's design focused on the point of where the bed folded. He created a unique pivot by using a closet doorjamb and door hinges that permitted the bed to attach to a wall and fold up against it.
Murphy eventually married his lady friend and borrowed money from her father to patent the 'Murphy In-A-Door Bed' idea. He started his own company to make the beds, which came into great demand due to people flocking to cities for work. The 1906 San Francisco Earthquake also helped popularize the beds. After the disaster, Murphy beds were installed in new and rebuilt buildings to maximize space. They continue to be used today in dorm rooms, studio apartments, lofts, micro spaces and anywhere an instant bedroom is needed.