What Mom Really Wants For Mother's Day (And No, It's Not Chocolates)
It's almost Mother's Day!
This time of year can be a little intimidating, as it's getting harder and harder to think of creative ways to surprise the most important woman in our lives.
So what does mom really want?
Surprise Pantry Makeover

Add a dash of excitement to mom's pantry!
For those who live apart from mom, for this to work, you'll have to gain entry into her house and get her out of it for the afternoon somehow. Once you've succeeded in doing that, the fun starts.
First, stock her pantry up with some of the essentials:
Sugars – brown, powdered, demerara, etc.
Dry Pastas – linguine, orzo, fusilli, and angel hair
Flours – white, rice, cake, almond, and wheat
Oils – olive oil, peanut oil, sesame oil, and canola oil
Sauces – hot sauce, Tabasco, oyster sauce, soy sauce
Vinegars – white, balsamic, red wine, and rice wine
Dried or canned beans – pinto, kidney, black, and navy
Herbs and spices – oregano, parsley, rosemary, and basil
Natural sweeteners – honey, maple syrup, agave
Baking ingredients – baking powder, baking soda, yeast, chocolate, cream of tartar
Salts – kosher, sea salt, pickling salt, rock salt
Nuts – almonds, pecans, and walnuts
Next, put a blindfold on her and reveal her newly stocked and organized pantry, however, don't stop there! Let her pick out ingredients from the pantry and make her a special Mother's Day meal out of them.
At the end of the day, not only will she have a jam-packed pantry, but she'll also get to use it right away AND get a home-cooked meal from you! Win-win for her.
Scrapbook Supplies
Everyone has a soft spot for handmade gifts. A scrapbook is a timeless handmade gift and can evoke pleasant feelings. You should have several photos of you and your mom from all the years she's been in your life (hint: it's all of them). Fill every page with photos of all those beautiful moments. Make it even more special by listing what your favorite things about them are.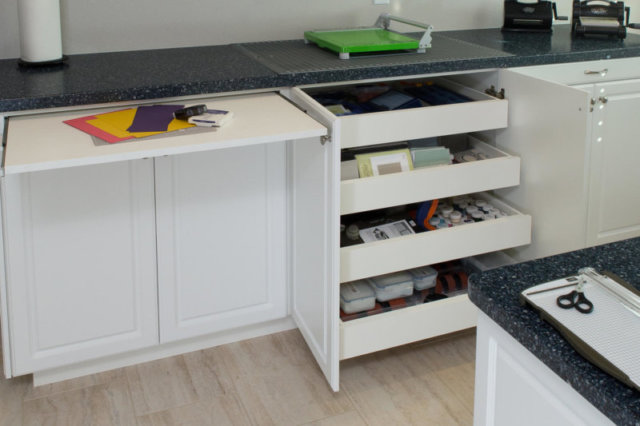 Upgrade
mom's crafting space
by incorporating a mix of organizational elements, including shelves, cabinets, and cubbies. Cubbies are flexible and space-saving, and help compartmentalize
craft
room
supplies. Sliding shelves are perfect for storing longer, awkwardly-shaped items like label makers and paper trimmers.
Shopping Spree
Show mom just how beautiful she is by taking her on a shopping spree. Take her to several of her favorite stores and let her choose the pieces of clothing that she wants.
Don't just make it a boring shopping day though — interact! Take selfies with her or silly photos of her holding clothes up to her body. Try on clothes yourself and ask for her opinion.
Night Out & A Show
Be the person who takes her out to an exciting musical or a theatrical production. Musicals are highly popular these days, with Hamilton and The Book of Mormon being a couple that are must-see. If mom is an avid reader, you'll be pleased to know that popular classics such as "To Kill a Mockingbird" are being adapted for the stage.
Mimic Photos From Your Childhood
Show mom in the most amusing way that you're still her special little guy or girl. Got any funny pictures of you as a child? Replicate them as your big, grown-up self. Your mom will die from laughter, and so will you from the silliness of it all. If you need some examples, check out what these children did for their parents.
Clean The House (With A Twist)
Cleaning the house is a common suggestion for Mother's Day surprises, but you can be a little bit more creative than that. Give mom monthly "Clean" coupons.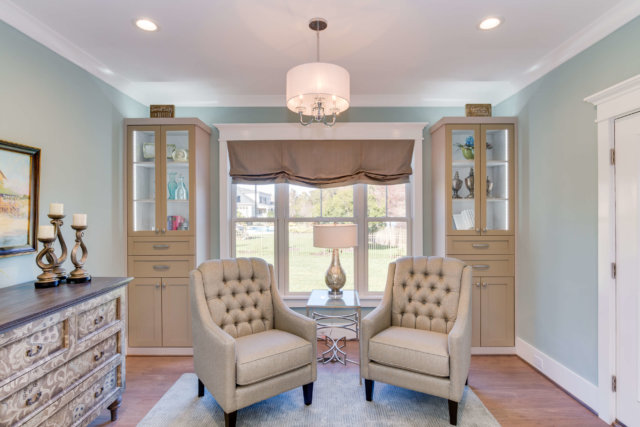 A clean and organized house does a lot for a person's overall well-being, so why not help mom maintain her sanity by gifting her a custom built-in wall unit with enough display space for all of her favorite trinkets and memories?