Killer Closets of the Silver Screen
In the immortal words of Marilyn Monroe, "give a girl the right shoes and she can conquer the world." But, what is a good pair of shoes without a home? Many a silver screen siren has turned to her closet for confidence, comfort, and creativity. After all, world domination starts in your walk-in. So take a look at our list of ogle-worthy on-screen closets, get inspired, and start planning yours!
1 – Cher Horowitz
If there is anything we should glean from the 90s, it is this Clueless diva's wardrobe. Though her harsh plaids and spaghetti straps now hold little more than nostalgic charm, her closet is still utterly enviable. What we wouldn't do for a computer-powered rotating rod, and program to identify a mismatch.
2 – Jenna Rink
If you've never seen this underappreciated rom-com from the early aughts (three stars from rotten tomatoes is severely underselling it), 13 Going On 30 tells the tale of a young Rink who wishes to skip her acne-ridden adolescence and finds herself a thriving magazine editor, aged 30. And though job envy may swell, it is her swoon-worthy closet that has us pining. Line after line of brightly-colored pumps decorate her shelves as we catch glimpses of hanging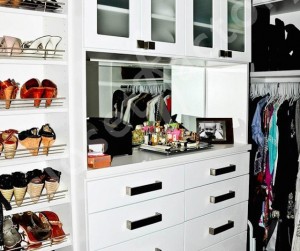 leather and leopard print. And, while the clothes are gorgeous, it's that organizational scheme that's got us really impressed.
3 – Blair Waldorf
Serena had the long legs, the long locks, and the Dan Humphrey, but Blair had the closet. Beautifully outfitted with slanted shoe shelves, bright blue knobs, and vintage wall sconces, the sheepskin rug ties it together to create the ultimate fashion oasis. And with all of that couture to organize, how could her closet be anything less than perfection?
4 – Carrie Bradshaw
We touched on Carrie's closet last week but wanted to delve deeper into her majestic world of Manolo Blahniks on a writer's salary. With Carrie, it's equally about the contents of the closet as the design. Amongst the rows of clothing we spot sparkles and sequins, paisleys and plaids. There is something for everyone in that room, including us organization fiends who can take solace in a sort of contained chaos. Her shoes are stacked ever so carefully in cubbies atop her dresses and gowns and three bright lights illuminate her most prized possessions. The rug down the center even mimics the layout of a runway, though it ends, unfortunately, in her bathroom rather than fashion week.