The Key To Creating Your Dream Closet
I absolutely love designing custom built-ins for my clients. I am passionate about helping people get organized. I work with people every day doing this and have for the past 13 years. However, I am also a customer. Since I have organized closets in my home, I sometimes forget how it was to live "pre-custom closets" and how much it can really change a person's life. When people call us they all have one goal in common: getting organized. It is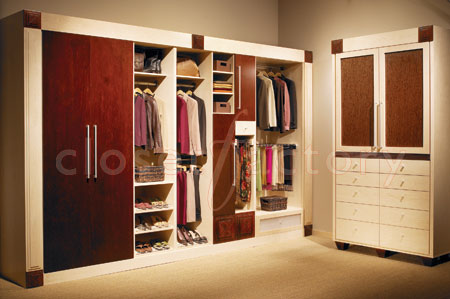 not easily achieved if you don't have the right Designer who is qualified as a "Space Planer." Anyone can give a quote, but will what they planned really going to enhance your life, save you time or help you accomplish your ultimate goal of getting organized?The trick is to identify who will give you the best result. Sometimes the identification is as simple as listening to the questions asked. Designers that are going to give you the best results are going to find out about how you are going to use the space. A good closet design goes beyond organizing the inventory – it truly is about making the space work for you in the most efficient way. Here are some of the key questions I ask clients to give you an idea of what to listen for:
How do you get dressed in the morning?
Are you right handed or left?
How many feet of clothing do you have?
What side of the closet do you want your clothes?
What pieces of clothing need to be near each other?
What clothes did you want folded?
How do you fold your clothes?
Do you need a space for hats? Scarves?
What is the best/most efficient way to store your shoes?
Of course the similar questions would be asked for other areas of the home, such as the garage, media center, home office or any other space.
The answers to the right questions are part of the road map to the design that will work best for you. This will help you to create a space that is even more amazing than you ever dreamed possible. The proof is in the end result. Some of the comments I have heard from clients is "I had no idea how beautiful it was going to be!" and "You exceeded my expectations!" Of course, that is music to my ears.
Don't forget to check out our Web Promotions page for deals and discounts on all of our custom closet products and installation. Request your free Design Consultation by filling out our simple online signup form and start building your dream closet today!