More Than Just A Closet Makeover!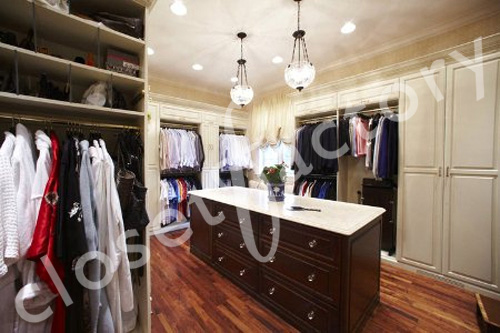 Custom Master Closet
Written by: Kathryn LaBarbera – Executive Vice President of Closet Factory
Being part of Closet Factory for so many years and also owning Closet Factory's closet systems, I am a big believer in going through my closet twice a year and removing clothes that I do not wear. It is quite invigorating to have a fresh space that is organized and up to date.
Recently I took this process a step further when I decided to re-carpet my house including my closets. It was quite an undertaking, and I devised a well-coordinated Master Plan. With the help of Closet Factory disassembling my closet systems that were custom designed and installed 16 years ago, new paint and new carpet, the closets were like new. (I used all of the same panels, shelves and rods which still look amazing!)
However, I got way more than I bargained for. I was so impressed with the new closet design, and how it looked in my master bedroom, that I became very particular in what clothes and shoes were "allowed" back in. All of my clothes (that were on garment racks in the garage) had to "apply" for re-admittance to the closet for organization. Anything that I had not worn in the last year, I didn't like or I questioned stayed on the Questionable Rack. This, as it turned out, was 33% of my wardrobe. I thought I was good at weeding out my wardrobe but I was mistaken.
Next, I had three friends come over and they got a fashion show. If they said a pair of pants or shirt didn't look good, I'd put it in the donate pile. (They had fun and even took a few pieces I was discarding.)
I have never cleaned out nor organized my clothes like this. I removed so much more than I have in the past. I highly recommend taking everything out of your closet once a year. You will be amazed at your results. Also, take the time to hang all of your clothes in the same direction and group them together. Be like me and line up your shoes like well-groomed foot soldiers. Believe me, you will LOVE your closet like I do!
Learn how to beautifully organize your closet. Download your own Personal Closet Inventory Worksheet and browse our project gallery for some inspiring ideas.