Johnnya's Dream Closet
This giveaway From Woman's Day is no longer available.
If you haven't heard, Closet Factory and Woman's Day are giving away $500 to one lucky winner to use towards the closet of their dreams. This whole contest has all of us around here wondering what our own ultimate dream closets would look like.
What would my ultimate closet look like if the sky were the limit? Hmm…let's see!
In my everyday life I am about as plain Jane as they come. I am a mother of 3 so most days I'm lucky if I can get my hair into a decent ponytail before heading to the office. Fashion wise, I much prefer comfy clothes like t-shirts and denim.
Sounds like my perfect closet would be pretty boring right? WRONG! I have an overactive imagination and a raging diva inside, so my ultimate closet would reflect my elegant, posh, powerful, yet lovable alter ego.
#1 I'd need a lot of space…about 1,000 square feet would do.
#2 I'd need a vanity area, with perfect lighting. Currently I put on my make-up in the bathroom while trying to keep my toddler from wiping toothpaste on my slacks. So a vanity in my dream closet (where I can lock the door, which can only be opened by retinal scanner ID system) is a MUST!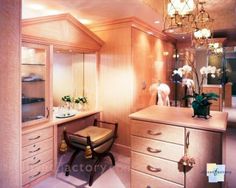 #3 A lovely (preferably gaudy) chandelier as a focal point.
#4 Contrasting colors. I simply love the idea of contrasting color either by working with the natural architecture of the room or by mixing materials and hardware in the closet. This image is a perfect example of that and it includes my chandelier!!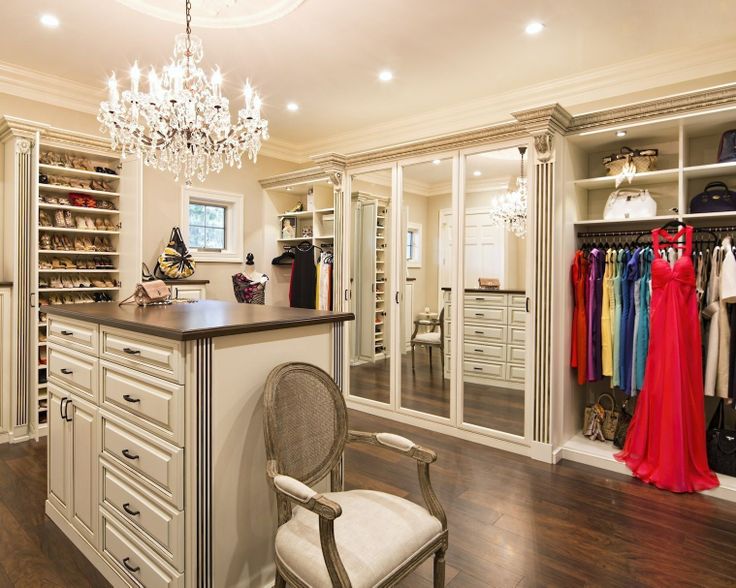 #5 An island or two is also a must have. It would be equipped with a motorized TV lift…concealing the tv inside the island when not in use. The island would also be equipped with a drawer that's made into a docking station for my smartphone and tablet.
#6 Lots and lots and lots and lots of shoe storage
Should I move on to the furniture I'd like?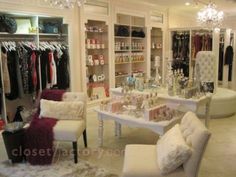 I'm just getting started! What would you put in your ultimate closet? Browse our boards on Pinterest to get some ideas. Closet Factory does nothing but completely custom work so if you can dream it we can create it! Enter to win $500 to get you started!
In the meantime give us a call for a free design consultation to get the ball rolling.