An Inside Look at Daniella Monet's Wardrobe
Actress Daniella Monet (Nickelodeon's "Victorious," "Baby Daddy," "The Fairly OddParents") expects her wardrobe to grow with each new role she takes on, but she does have one constant — a closet that's flexible, functional, and best of all, beautiful.
In part 3 of my series with Daniella, she takes me on a tour of her finished dream closet and shares a little backstory on some of her favorite things to wear, including two awards show dresses.
The L.A. Lifestyle
"In L.A., time is very important," Daniella says. "There's traffic and all sorts of things that we do to keep busy, especially being an actress. You're kinda all over the place, and getting dressed for that is very, very important. I sometimes wear maybe four to five outfits a day! And it's not as easy when your clothes and shoes are spread out throughout four different spaces."
Running from closet to closet wasn't exactly a calming experience and worse, put Daniella in jeopardy of being late for big meetings and auditions.
"In the morning I had underwear and socks in one section, work out clothes in one section, my shirts and some of my pants in the main closet, and then some of my other stuff was in the other closet," Daniella explains as she shows me one of the hallway coat closets she previously used for her wardrobe. "So it wasn't uncommon for us (she lives with boyfriend Andrew) not to know where our clothes were in this house."
Daniella's Vegan Shoe Collection
Purging part of your existing wardrobe is a natural part of the closet remodeling process, but Daniella decided to take things a step further.
"I went through all of my clothes and all of my shoes, bags – everything – and I made a point to get rid of everything leather," she says. "All of my shoes are Vegan, which I'm really proud of because I'm just trying to stay as animal-cruelty free as possible. So I'm pumped on the fact that I can proudly display things that didn't hurt any beautiful, fuzzy, gorgeous animals."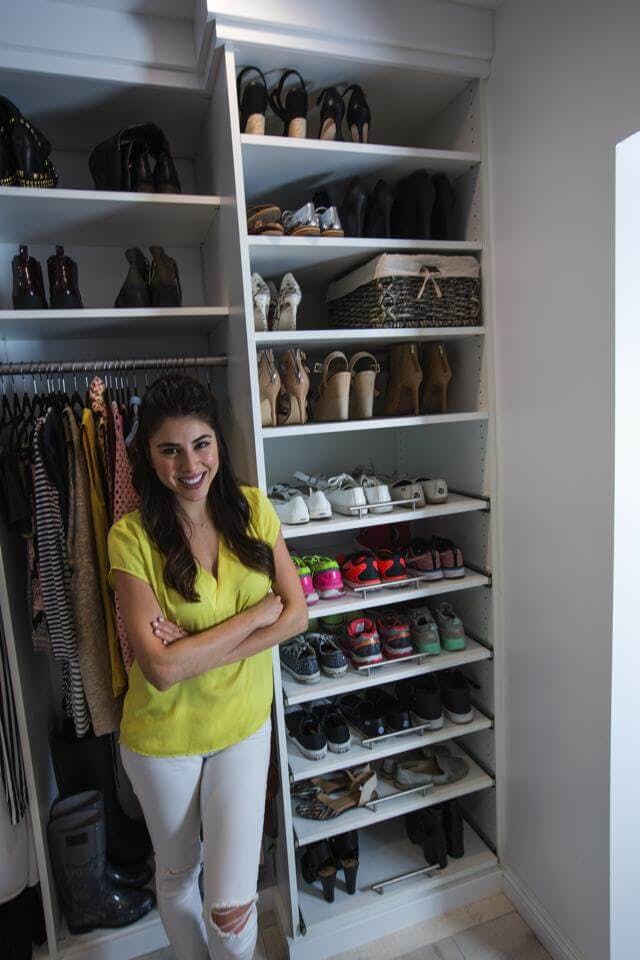 Awards Show Wear
Daniella has played a variety of colorful characters throughout her acting career: from feisty Trina Vega on Nickelodeon's hit series "Victorious," to Timmy Turner's childhood pal Tootie in "The Fairly OddParents" live-action movies.
"I wanted to talk about some of the things that I have in my closet that mean a lot to me," Daniella says. "This is the dress that my character Tootie wore in the very first "Fairly OddParents" movie. I love that it's super vibrant. It's Prada, and I was lucky enough to leave set with this little gem."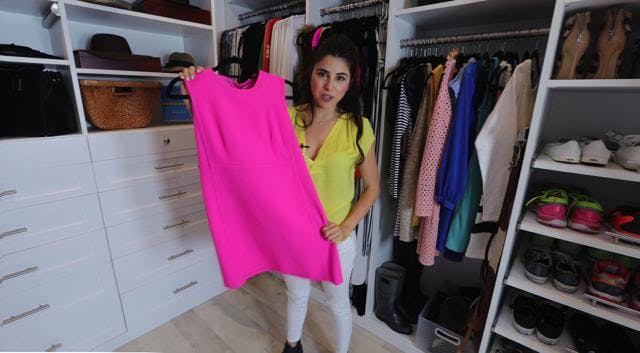 She's has also had the opportunity to interview some of her fellow stars as part of the Nickelodeon Kids' Choice Awards.
"This was one of the dresses I wore for the KCA's when I hosted the Orange Carpet," Daniella says.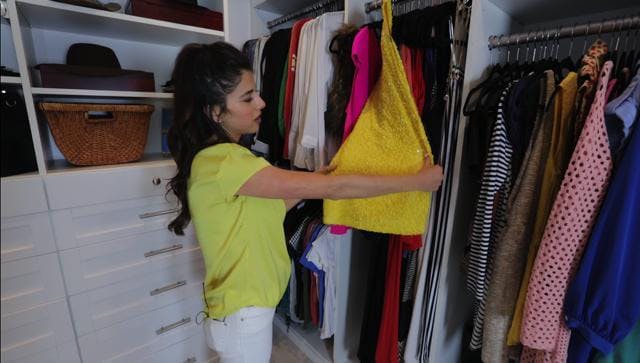 One-of-a-kind Jewelry
While other celebrities might obsess over their finest pieces of diamond-encrusted jewelry, Daniella does not. Instead, she values the connection pieces give her to her work and fans.
"I have a really cool bracelet that a fan sent me," she smiles excitedly, finding the piece in her velvet-lined jewelry drawer. "It's Tootie, and all the Fairly OddParents cast in a bracelet! It means a lot that someone thought to send me that."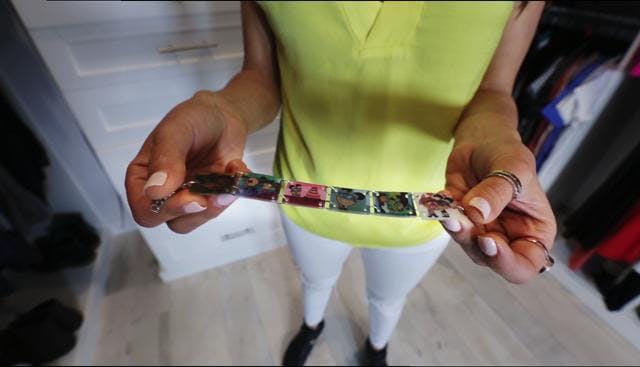 It was refreshing to see a rising star like Daniella so in touch with her fans and be grateful for the success she's achieved thus far.
A Less Stressful Routine
The benefits of a serene, organized space aren't lost on Closet Factory designer Joanna Forbes, who helped bring Daniella's vision to life.
"A closet starts your day, and finishes your day, every single day," Forbes points out. "So you want it to be a place that's super function and enjoyable to be in. If you can find your clothes easily, your day goes a lot smoother."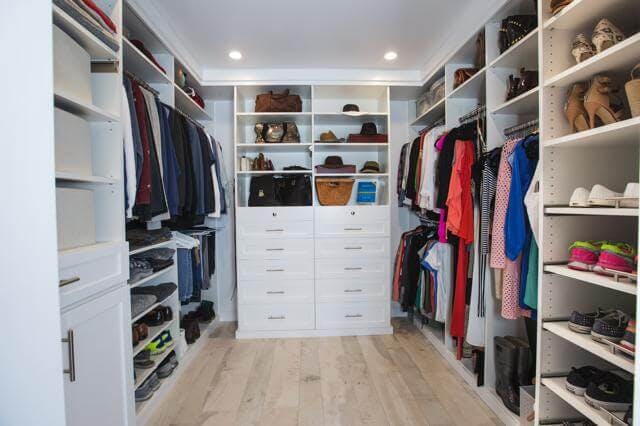 In part 4 of my series, Daniella works with professional organizer and New York Times best-selling author Regina Leeds to 'Zen-up' her new dream closet.
Watch full Daniella Monet closet makeover video here:
If you missed parts 1 and 2, be sure to head over and read:
Part 1: A Closet Makeover Sparked on Twitter (or How I Met Daniella Monet)