The Importance Of Being Prepared For A Custom Storage Project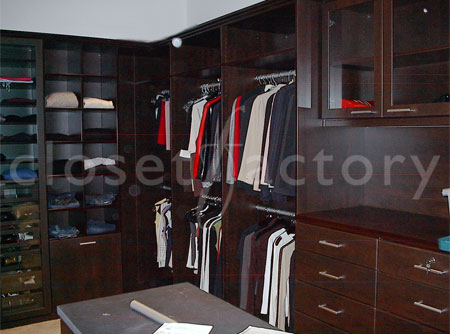 Recently I went on an appointment and the couple I was meeting with had our inventory sheet printed and filled out. Normally, I'd go through the closet with the client and fill out my own inventory sheet for them so we can get an idea of exactly what type of storage they'll need. It wasn't until this appointment that I realized how beneficial it is to do this before your initial appointment with a Closet Factory designer. There are many reasons why this is a helpful tool no matter what the project entails.
Both the couple and I felt like this set the tone for the appointment. Not only were they prepared but they were excited to get started. When we went into the closet, the husband actually pulled out the inventory sheet and started telling me how many inches of hanging he was going to need and how many pairs of shoes he had before I could even take out my tape measure! This helped us move quickly through the inventory and onto something more important…the design.
Since their inventory sheet was filled out, I knew they already had an idea of what they wanted. They knew that both of them needed a couple of double hanging sections, at least one shelving section each and a few drawers. By the time I had drawn a rough sketch, they were excited to move forward. They specifically mentioned to me that the inventory sheet helped them make a decision before I even came over for the appointment.
Now, this may not be the case for everyone but I definitely felt a difference on this appointment compared to previous appointments. One thing that really stood out was how they already knew they were going to get rid of about 20" of their hanging items. Most people would not be able to figure this out until after the closet is installed. The reason this stood out was because I was able to incorporate more shelves since they weren't going to need as much hanging space. In the end that made a big difference to them as well.
Preparation is always important when starting a new project and the same rings true for custom storage projects. While we do not expect you to fill out the inventory sheet, it is a very beneficial tool for you to utilize. Whether you need a custom storage system for your garage or master closet, this tool will help you determine what belongings you need to store, purge or donate. If this isn't something you wish to do ahead of time, ask your designer if you can have a copy of their completed inventory sheet during the appointment. That way, in between the initial consultation and the installation, you can go through your inventory and make decisions on what to keep. Whichever way you chose to approach this, know that Closet Factory will help you make the right choices for your next custom storage project!
If you like this article, sign up for our emails to receive updates on recent and upcoming events, new promotions and sales, coupons as well as some interesting information and organizing tips.