I Didn't Know We Could Afford A Custom Closet!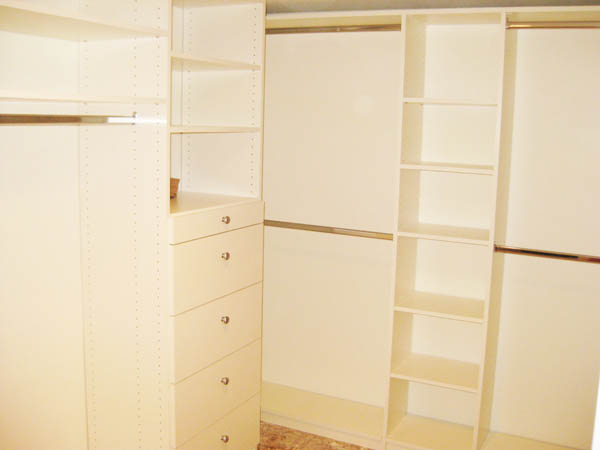 I recently met with a new client who was just completing construction on their home. She was so worried about being able to have her closet organized the way she wanted it. Like many clients who build new homes or remodel, when they get to the end of the project, they have limited funds to devote to the closet.
The Solution: A custom closet by Closet Factory!
When I met with my client, she explained that she really a wanted her "dream closet". She thought that since her closet was so large, she and her husband would not be able to afford everything she wished for. One of the first things she said was, "If it's out of our budget, I will be forced to go to IKEA!
The best thing I could do was tell her not to worry and assure her that since we are so "custom" we can create a closet that will include everything on her "wish" list. There are two ways you can work with a Closet Factory Designer to save money on a personalized closet system.
Tell us what you want to spend and we will design everything we can within that price range.
Describe your "dream closet" (or office or garage or other area), and we will design what you want.
No matter what scenario works for you, we listen. We take what you tell us and come up with a solution that works for you. The more information you provide, the better design we can create so that you get exactly what you want. The great thing is that it will be beautiful, as well as functional.
I went to work on her inventory and came up with a design that she said exceeded her expectations! Within a few weeks her personalized closet was installed. When she finally saw her finished custom closet in her home she said, "This is definitely my dream closet. My friends are going to be so jealous!". She went on to say that she never dreamed she could have all this in a closet and be so affordable. Yet another really happy Closet Factory Client!!!! I was so happy with how gorgeous this Closet turned out!!
My advice to everyone who wants to have a closet done is this:
Share your price range with your Closet Factory Designer when you first meet with them.
Have an amount set aside for the closet (and other areas) when you are remodeling or building.
Keep your dreams of an organized home alive – it is easier than you think.