Why A Good Closet System Adds Resale Value To Your Home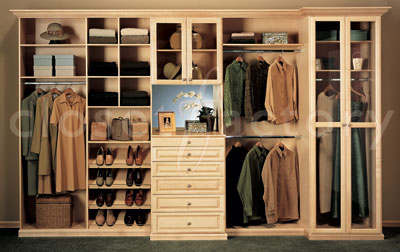 After selling high-end real estate in two of Colorado's most prestigious ski resorts for 35 years, Janine Hill has some idea of what helps a house sell. "Everyone wants storage," she says, "and having the closets built out is a great way to add resale value to your home and differentiates your home from the competition." After selling their home and moving down the mountain, Janine was once again in the market for closets when they bought a newly built house in Denver. "We have so much stuff, I would have to rent a couple storage spaces to fit it all, and then I can't see it and forget what we have. But having the closets done gives me room to store everything so I know exactly what I have and where it is."
One of Closet Factory's newest designers, Karen Harding, worked with Janine to start getting organized. The master closet was the first priority as it was something that had to be shared between Janine and her husband. "The space behind the door was also right next to a window, meaning the sunlight falls directly on the area. Sunlight fades clothes, so I thought we should reserve that space for shoes and purses," Karen said. "I designed the cubbies so that each of the pairs of shoes could be side-by-side and not one on top of the other which leads to scuffing."
The remainder of the wall was dedicated to storing Janine's extensive purse collection and her husband's few pair of shoes. "My husband was so excited to have a place for his shoes; because I had so much stuff in our last closet, he had to keep them on the floor!" Janine exclaimed. The rest of the closet, done in Edgewood Sycamore melamine, was devoted to hanging, drawers and shelving for the couple's clothing and accessories. Karen designed the banks of drawers directly in front of the doorway into the closet and along the back wall so that the couple could open the drawers unimpeded. Double and long hang sections allowed the couple to see what items they had at a quick glance, shelves stored folded items like t-shirts and sweaters. Accessories like a folding mirror, valet rods, belt and tie racks rounded out the look. So what do the clients think? "My husband is thrilled to have his own section," Janine gushes. "It's so nice to be able to see everything and keep it neat. I thought the price was very fair and very much worth the investment," she exclaimed.
Though the Hill's master closet was the main priority, designer Karen Harding asked to see the rest of the house and ended up designing 8 different spaces. Visit Closet Factory Colorado's blog to see the other projects!
Visit Closet Factory's "Expressions" section for the choice of styles, colors, products, layers, and organizational functionality to suit your custom closet needs. Browse our project gallery for some inspiring ideas.