Garage Organization 101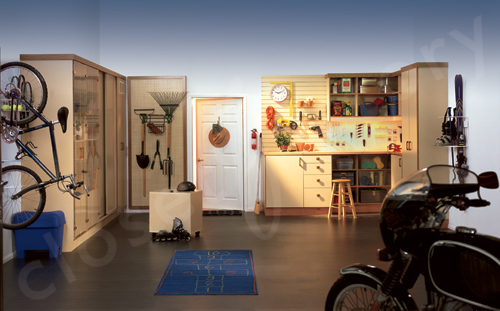 You can tell a lot about a person by looking into their garage. For most it's just a place to park their cars, for others it may be a hideout or work room and for others it's just a place to store extra stuff you don't want in the house.
If you are like the later and just use the garage as free-for-all storage it's time for a clean up.
Cleaning out the garage is usually on the bottom of everyone's to-do list, it's a stressful, time consuming process and nobody wants to waste their entire weekend doing it.
But what if you could turn your garage into an organized work space, fitness room or man cave?  Closet Factory can help you declutter and turn your garage into a space that fits your needs and personality.
Our organization experts at Closet Factory Little Rock created a 4-step process to get you started on your garage organization project.
Step 1: Empty out the Garage
The first step to cleaning out the garage is to remove everything out of the space. Transfer everything to the driveway into organized piles: garden, sports equipment, decorations, toys, etc.  Then take a few moments to delcutter decide what to keep, toss or donate. If it's an item that hasn't been used in the last two years, you want think about finding it a new home.
Step 2: Explore the Empty Space
Now that the garage is empty you can take some time to explore. Imagine the possibilities and decide what you would like to do with the space. Before moving things back into the garage clean the floor, remove cob webs and other trash. You may even want to consider painting the garage floor and adding drywall to the walls so it looks like a real room.
Step 3: Explore the Walls
Think about where you have space to hang items and keep them off the floor. You can hang things like bikes, garden rakes, kayaks, and other sport equipment. Try to keep everything categorized; sporting area, tools area and garden area.
Step 4: Customizing the Space
After hanging everything you can inventory what's left. Most of these items would be better stored in drawers and cabinets and this is where Closet Factory can help. Our designers can create a custom solution consisting of shelves, bins, trays and cabinets that not only fit your space but also fit your needs and style.
Taking the time to clean out your garage and organizing it, will transform the space from a junk drop off to an organized space that you can truly enjoy. You may even want to leave your garage door open for all the neighbors to see!
Are you using your garage effectively?
Closet Factory experts can help you declutter you garage space and create a custom solution that will transform your garage into a functional and organized space that you can enjoy. Make an appointment for your Free Consultation today!