Four Essential Pieces for Micro Space Living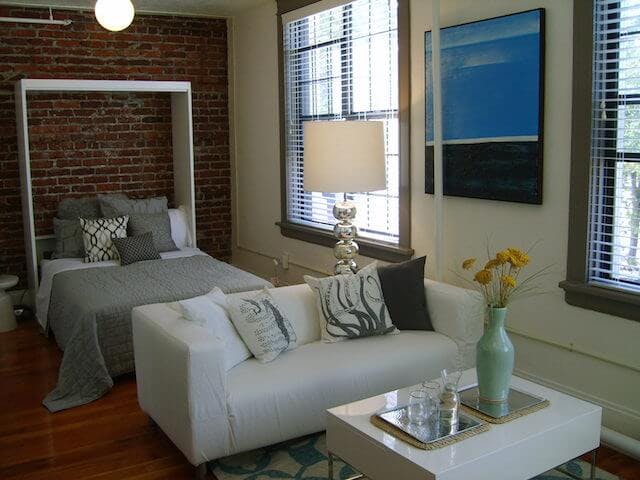 So, you're thinking about downsizing to a micro loft. Good choice. Since New York City approved their first set of micro apartments last year, the housing style has exploded across densely populated parts of the US and Canada – with large developments currently being built in Boston, Seattle, Vancouver, Portland, and Los Angeles. A micro space combines affordability and efficiency, making it possible for you to live in a much more desirable part of town than you might otherwise be able to.
If you're thinking of moving into a micro loft or any kind of high-efficiency micro space like a studio apartment or bungalow, you might be wondering what to include in a micro-space. So, here at the Closet Factory, we put together a list of four essentials for micro space living:
1- A Convertible Ottoman
The ottoman is an oft-neglected piece of furniture in the modern apartment, which is unfortunate because it is one of the most versatile pieces of furniture – functioning as a seat, footrest, storage solution and table. You can also get convertible ottomans with a variety of functions in addition to the ones above including ottomans with cocktail trays on top or ottomans that convert into a sofa – perfect if you can't fit a full sofa bed for guests into your space. My personal favorite has mini-stools built into the ottoman, which make it perfect for a casual night in with some friends.
2- A Murphy Bed
Another extremely useful piece of furniture to include in a micro-space is a wall bed or Murphy bed. This bed folds into a wall unit when not in use, allowing you to use the space normally taken up by the bed during the day for activities or work, and then easily pull it down for sleep at night. From a home office to a custom wardrobe, a Murphy bed can be put into just about any kind of wall unit you might want. You can modify it to attach to a table, desk, shelves, or even a couch that will seamlessly fold and unfold as you put the bed up and down.
3 – A Custom Closet
No matter what kind of space you have, you need maximum efficiency when storing your clothes. But, that doesn't mean you have sacrifice the convenience of a traditional wall or walk in closet. With Closet Factory custom closets, you can turn any wall in your unit into a closet. This allows you to store and display your clothes in a way that makes the most of your limited space – rather than storing them in a bulky dresser or an unsightly standing clothing rack.
4 – A Retractable Television
With blu-ray players, video game consoles, stereos, and your old DVD collection, the

entertainment centers

can take up a lot of precious space in your micro loft. In order to reclaim what's yours, you could get a

entertainment center

that includes a retractable television. This will give you that little bit of extra workspace for folding clothes or spreading out paperwork.
With a killer combination of efficiency, affordability, and geographical practicality, it's unlikely that the micro space trend is going to leave any time soon. Micro spaces have been status quo in countries with dense populations like Korea and Japan for decades, and with the ever-increasing cost of living in American urban environments, the micro loft and other similarly sized spaces are ideally suited for the lifestyles of many young professionals.