Do's & Don'ts When It Comes To Kid's Room Decorations
It's nice for kids to be able to provide input on their room design, whether it's wall color, flooring, or accessories. However, since the project will ultimately be surprised by you, it ends up being a never-ending tug-of-war since most parents want their kids' rooms to look the way they want, regardless of the kids' wishes. More often than not, kids become disappointed left with a feeling of "Why was I even asked for my opinion in the first place?"
In order to compromise on kid's room decorations in a way that will leave both you and your kids happy, there are a few do's and don'ts that you need to consider.
Do's
Use online tools such as Pinterest and Instagram
The Internet is a treasure trove of great ideas and inspiration for kid's room decorations. Doing a quick search of "kid's rooms" or #kidsrooms in Pinterest and Instagram respectively will yield several photos of design ideas that can potentially be part of your project. Pinterest, in particular, lets you create boards that let you stick and save any good ideas you find for your later reference.
Establish a budget for kid's room decorations
Most kids don't have a semblance of finance management in their tiny noggins so it's highly likely that they'll want to add options to their rooms without a care in the world for how much everything costs. For example, your daughter could want her own fully functional custom closet when you originally wanted her to just have extra drawers and cabinet space.
A way to create a budget and manage spending is to let your children choose what they want to add to their rooms in the beginning and log all of those items in an Excel spreadsheet. Once you've got a grasp of how much you're willing to spend, let them choose from the list and give them a rough figure of how much the room additions will cost. Even children will understand financial limits once they see a figure with their eyes, unless they've never learned anything past the 100s.
Add storage options
Regardless of what your child says, adding storage solutions will benefit them in the long run. As the years go by, the stuff while just keep on piling. We all know that clutter will eventually ruin your new kid's room decorations, so why not take the initiative and prevent it early on? Pile on the storage bins, shelving space, drawers, and cabinets!
Don'ts
Giving in to fads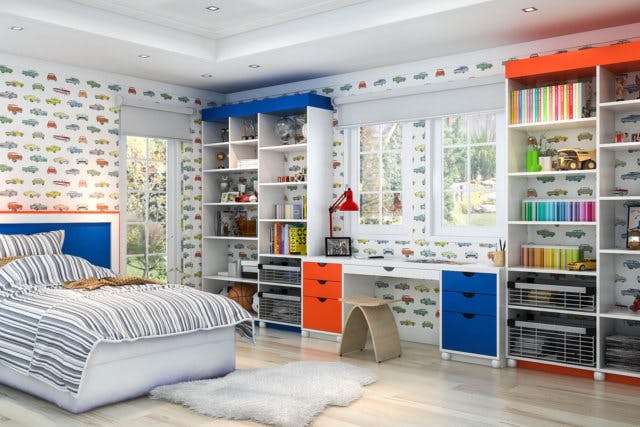 Your kids will try to add elements to their room based on what they like at the time, such as a game (Pokemon, perhaps?) or band. Since they'll eventually grow out of that fad, try to persuade them to add neutral options instead like shelving decorations instead of wallpaper and such.
Letting kids control the design
It is their room but leaving them to design everything is a disaster just waiting to happen. Giving your children a choice is important, but its important to keep those choices limited to a couple of items such as color, fabrics, and furniture.
You controlling the design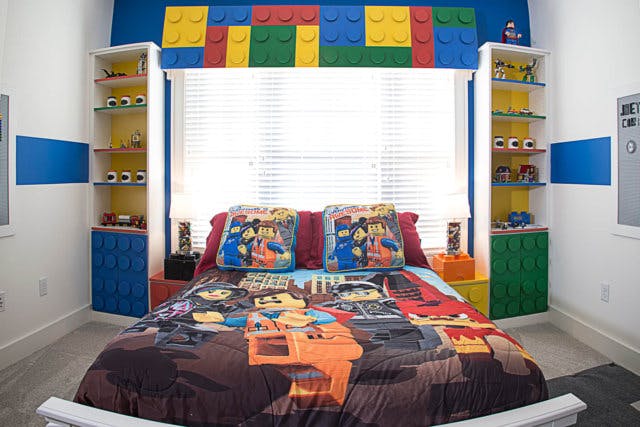 As bad as it might be to let you kids dictate 100% of what will be in their room, at the same you don't want to just flat out create the room for them. Let them have some input and a chance to express their creativity. The key point is, you want to create a fine balance between you and the kids.
Transform an empty wall or nook in your kid's bedroom into a custom workstation that's perfect for homework, complete with chalkboard and cubbies. Find out more.