Designer Naeem Khan's Archival Closet: Commercial Design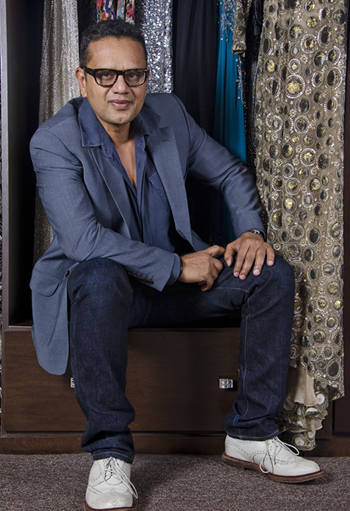 I always look forward to the beginning of a new project as an adventure but especially when the project is a "Closet Story".  This "Closet Story" in particular was exciting because it was not for a client that will use the closet every day to get dressed, but for a Fashion Designer that will use it to bring clients to show them his beautiful creations.  Stylists, stars, political figures and the jet setting social crowd are among the many that will be brought to this space.  It was quite a daunting undertaking, but I was tremendously excited to see how I could transform a dark stockroom into a jewel box that would showcase and feature Naeem Khan's incredible gowns and dresses.
On my first trip to New York to see Naeem's showroom, I was struck by the beautiful high ceilings and the massive open space of his reception area.  The showroom, a penthouse suite in the busy garment district reminded me of my days in the fashion industry when I used to travel to New York viewing  Designer clothing for a high end specialty store.  The excitement of running from showroom to showroom and viewing the latest styles, colors and collections created by the premier "Fashion Designers" of the day is definitely one of my many memories of those days in New York.
The Khan archival stock room is a place that stylists, stars, magazine editors and others select pieces for fashion shows, photo shoots and red carpet events.  The existing stock room was dark, the clothing hung on pipes and everything was a bit jammed together making it difficult to see and find things.  Certainly it was not the best way to show the beautiful clothing he has created over the years.  These beautiful and expensive garments definitely deserved a more gracious home, and I was determined to give it to them.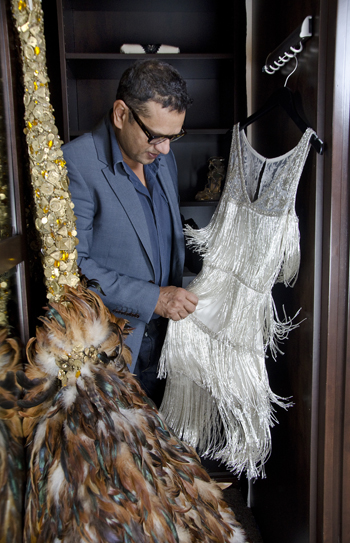 One of the first things we discussed was the possibility of expanding the existing stockroom into another unused space.  This additional space had higher ceilings and would provide the ability to have an island for storage and a place to lay out things like belts and accessories for selection.  Naeem was looking for a sleek and modern style with a bit of glamour.
We selected a deep rich espresso melamine with wood edges and flat solid wood faces.  This color is rich and luxurious and would really set off all of the bright colors of his collections. All of the cabinets would be 24" deep to envelop all of his beautiful pieces in the dark wood.  I provided additional storage with drawers at the bottom of many of the sections and added Swarovski crystal knobs for a little sparkle.
When working in a tight area nothing is better than mirror to open the space up.  At the end of each aisle I designed a full length mirror to make the narrow aisles feel wider and placed beveled mirrors in the doors to create a lot of additional light. Stainless tube handles for the doors added to the sleek modern feel.  A special aisle for shelves allows for additional storage and quick access to shoes.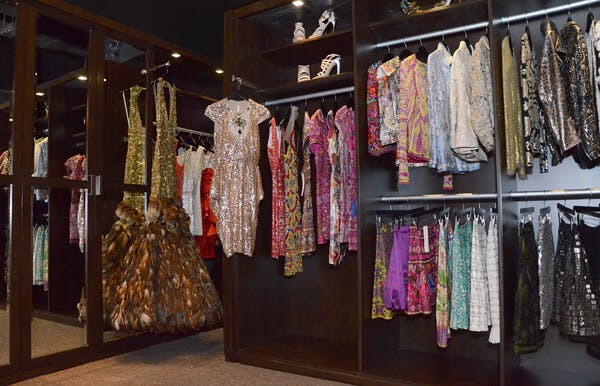 Lighting is what really brightened the space up!  Small yet incredibly bright LED lights in every hanging section make sure that every piece is featured perfectly.  They turn on with a switch on the wall.  This makes it convenient to immediately brighten up the space by turning all the lights on when you enter.  The lighting really makes all those gorgeous colors stand out, sequins sparkle and the space bright and inviting.  A multitude of brushed aluminum pull out rods provide the ability to display items that are being considered, look at them more closely and keep them together for the final selection.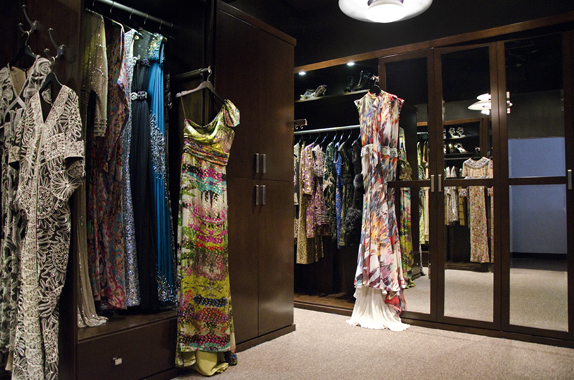 I think that we accomplished our goal of reinventing this dull dark stock room into a stylish and chic place that he can be proud of and a space that reflects his sense of style and showcases all of his magnificent collection.  Naaem now has sophisticated place to invite his clients into that reflects his sense of style and showcases all his magnificent collections.  I know it is a space that he can be proud of.
For more info on this commercial design project visit Naeem Khan's Closet Story and Closet Style pages.
Closet Factory also works with commercial designs for your workplace. Find a location near your today and request a complimentary design consultation.