Designer Handbags – Storage and Organization Tips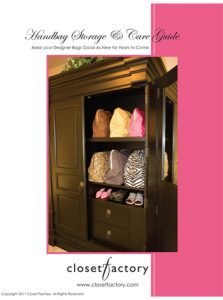 I love fashion accessories.  And I love keeping my closet organized! Now, more than ever before since working at Closet Factory. In my prior posts I have included tips on shoe organization and storage, which got me thinking about my love of handbags. If you love your designer bags as much as I do, having proper storage for them is a must! It can really be very frustrating to invest thousands of dollars on a collection to end up not storing them properly.  We all want to preserve our designer bags and keep them looking new for as long as possible. I also want to organize my bags in a way that allows me to quickly find the purse I am looking for.
In my search for the perfect handbag organization solutions I came across Mia Cotone Handbag Dust Covers.  They are an excellent way to organize designer handbags whether you have a closet system by a professional or just want to tidy up an unorganized closet. This product line offers a great way for you to set up your own handbag organization system by color!
These products will help to protect, identify, organize and store your handbags. There are 28 colors in various sizes to fit any size handbag making it easy to color code your handbags by designer! Say all Louis Vuitton handbags are in dust covers brown and Jimmy Choo bags are in white dust covers! You can also use the identification tag (included) to differentiate handbags of the same color thus staying more organized and saving time! I will discuss the advantages of using Mia Cotone dust covers over designer dust covers in a post this week. But one thing is for sure, these are superior quality.
In conjunction with Mia Cotone, Closet Factory is proud to release our Handbag Storage & Care Guide as a FREE DOWNLOAD featuring great tips like:
How to prepare your bag prior to storage.
How to properly pack a handbag with chain handles.
How to keep your bag scratch and impression free.
With the download you will get instructions on how to clean your bags and store them properly. After downloading the care guide you will also get a BONUS Mia Cotone Exclusive 20% OFF coupon for fans of Closet Factory's Facebook Page. Simply follow the steps and download the coupon on the final step, then apply the discount code at checkout on www.miacotone.com!
The next posts this week will further discuss the following handbag storage and closet organization topics:
The Disadvantage of Designer Handbag Dust Covers
Organizing Handbags to Maximize Closet Space
Storing Handbags Properly
The coupon is for ONE MONTH only so stock up on your Mia Cotone products and stay tuned for the next few handbag organization posts!