How To Customize Your Wall Bed Design Part II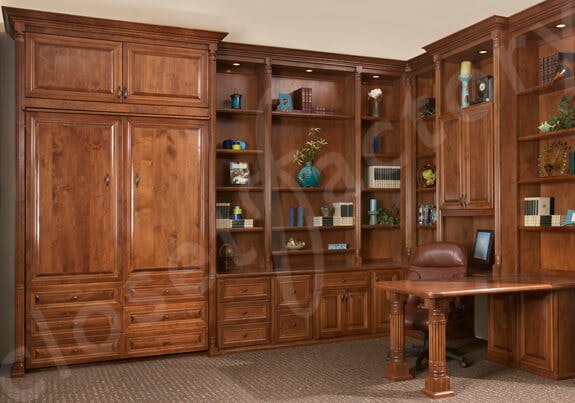 High End Wall Bed Design Featuring Bookcases, Shelving and a Desk
My previous post discussed how to customize your wall bed design. Just so you are not confused, Murphy beds and wall beds are the same thing. Part of the design process will be to see how much space you have to devote to your unit and what type of pieces you might wish to attach to the actual bed to create additional room functionality and storage. It is best to design an entire room around your wall bed, you will want to consider the type of units you might need for the room such as shelving units, drawer units, even drop down desks for a work area.
Because wall beds are often used in small or multipurpose rooms or lofts, it is common for Closet Factory to not only build the bed cabinetry but to design and install the entire space to fit your style, storage and organization needs for that space. Here are some of my favorite custom additions to consider when installing a Murphy bed in your home.
Custom Storage Shelving: A wall bed can be a basic stand-alone wall unit, or it can become a hidden work of art with custom built-in storage shelving cabinets on either side of the bed, transforming a home office or study into a bedroom with ease.

Contemporary Wall Bed with Built-in Shelving and Lighting

Built-in Lighting: Looking to add additional comfort and style to your wall bed? Consider adding built in lighting such as sconces installed on either site of the bed to create elegant and warm touch. Lighting options may vary by location.

Luxury Murphy Bed with Lighting Sconces and Pull-Out Night Stands


Pullout Nightstands: These are table tops that slide out and is a great option to have installed into your Murphy bed wall unit. Most bedrooms have nightstands, so why not a wall bed? Everyone has books, magazines, or even their laptop their bedside. This is a great way to have built in nightstand which adds table top space and will also match and enhance the overall design and maximize the rooms space.

Built -in Desk Area: This is perfect for that multipurpose spare room or even a small bedroom. A desk unit is a great option. It can be installed along side of the wall bed. Or, it can be installed on the front of the wall bed. You can even add a drop down table to the front of your bed if you are tight on space but need a work area.

Small Spare Room with Wall Bed Corner Desk Area and Shelving

Adding Built-in Bookcases: Not only are bookcases practical, but they also can be added to your wall bed to create a well thought out and organized room. Depending on the look or design elements you are interested in, our professionals will create a completely cohesive unit that will look as if it came with the home.

Family Room Wall Bed featuring Custom Bookcases

Incorporating an Entertainment Center: Let's face it, electronics can be found in every room of the home. Some people have TVs in their closets, kitchens, and even their bathrooms. With the whole digital age here to stay, many people have opted to incorporate a wall bed in their family media room, or install pull out shelving to hold a flat screen and its accessories behind cabinetry doors.

Unique Side Wall Bed with Pull-out Media Center Shelving
For more wall bed ideas check out our posts:
How To Customize Your Wall Bed Design
Murphy Beds Make Any Room More Flexible
Thinking of the space saving benefits of installing a Murphy bed in your home? Perhaps your personal style is modern, contemporary, or European elegance, just don't forget to check out our custom Wall Beds section of our Closet Factory website!