Custom Dressing Room Improves Organization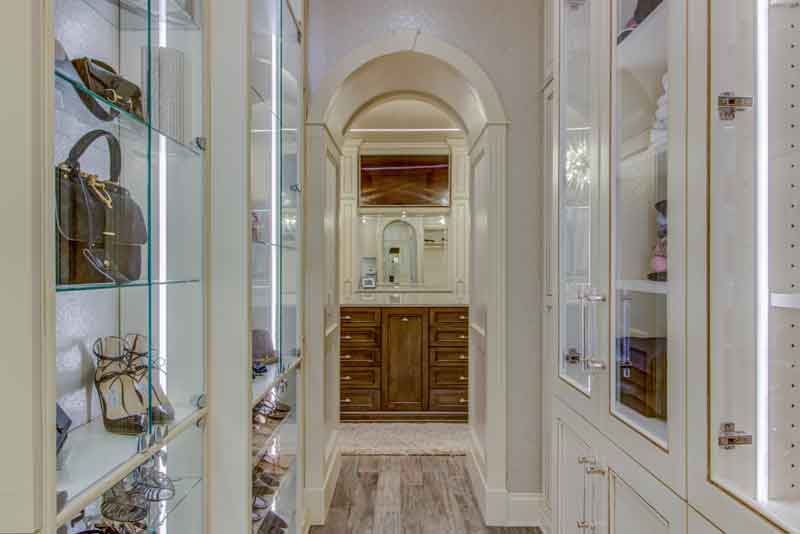 Great custom dressing rooms dramatically improve a home's organization and aesthetic impact by solving specific storage challenges and brings elegance into the space. Recently, Cleveland Closet Factory designer, Beth Patrick her her clients accomplish exactly these two goals by designing a magnificent custom dressing room that emphasized a detailed layout where thousands of clothing items, accessories, and accouterments had their own assigned place.
Well, I can tell you that this home was really spectacular. The clients were meticulous, but they have fantastic taste and they had really specific wants and needs," Beth Patrick, Closet Factory Designer.
"Well, I can tell you that this home was really spectacular. The clients were meticulous, but they have fantastic taste and they had really specific wants and needs," explained Beth. "I think we had like 68 drawers in this closet, and every single drawer was specifically designated to a certain thing. Whether it was jewelry, sunglasses, ties, undergarments, everything had an accounted spot," said Beth. "We even created a couple of little hidden compartments in the corners that nobody knows about so they could hide some of their valuables. This closet was so specific."
Beth started the design by including a built-in vanity, lots of decorative storage cabinets, an oversized island, and an adjoining showcase area where designer hats, handbags, and shoes could be elegantly displayed. In addition, the client wanted a washer and dryer, a mini bar and a television.
"After that the project just kind of snowballed. When we started laying things out the clients became very specific about 'let's do this and I want some hidden away spaces, and I want…'. It just really snowballed and before long we were looking at elevations of each wall and we began to identify exactly what was going to go in that specific drawer. They wanted to know where every single thing, every shirt, every pair of tennis shoes, and every pair of pants was going to go," said Beth.
According to Beth, because the husband regularly traveled from Tuesday through Thursday for his job, she created a locker area inside the custom dressing room where he could organize and layout his travel clothes for his business trips, including shoes and correctly paired sox.
Like many large dressing rooms, this space was extremely large, taking up two full size rooms.
"So, I think one of the real challenges of that space was that it was actually two spaces. As you walk into the master closet, the first area was designated for her accessory and vanity areas. And then you walk through to the main closet," said Beth.
Beth really pulled all of the pieces together, and designed a completely custom dressing room that improved the organization and beauty of her clients' lives.
Custom Dressing Room Design Details:
Highlights:
The main structure was made from Antique White Melamine while all the panel and shelving fronts have painted applied wood edges providing an added layer of luxury
All the solid wood doors and drawers were painted and glazed
The cabinetry was floor to 12′ ceiling height, and all shelving and hanging space was 24″ deep
The center island was stained veneer with 36 stained wood drawers
The island included deep storage area for luggage and travel cases
The island top included framed glass inset doors to provide a boutique style showcase look
All of the hanging rods were Illuminated with strip and puck lights to provide ambient, task, and accent lighting effect.
The room includes painted and glazed crown and base moldings
Accessories:
Pull out blow dryer station
Pull out trash cans
Oversized vertical drawers for belts and cologne storage
Vertical drawer for scarf storage
Sliding shoe shelves
Soft close under-mount glides on drawers
Several custom locked velvet jewelry drawers
Custom velvet tie drawers
Wood and acrylic divided drawers
Tilt out hampers
Luxury Items: 
Custom built in flat screen TV
Coffee bar with built in mini refrigerator
Shoe shine sink area
Laundry area
Custom window seat
Boutique style display for luxury handbags, shoes, and jewelry
Full wall Vanity Area with counter top sink
Additional Challenges
Another significant challenge for Beth when designing the space was a narrow walkway that separated the accessory area from the master closet. There was only nine inches of depth on the left wall, and the wall on the right needed to be extended out from the bottom to create a flush surface.
"I was really happy with the way this walkway turned out because it was challenging to make it look right," said Beth.
Beth also took advantage of glass for the walkway to help add the feeling of space and distance between the two walls.
"The glass really helped give the feeling that it isn't as narrow as it really is. It also provides something pretty to look at as you walk by. You're not thinking of the width of the space, you're looking at everything around you. The glass really gives it that open feel," said Beth.
At the end of the project, Beth's clients were beyond happy with their project. The entire custom closet design was part of a larger, more expansive addition to their home.
"They are beyond pleased. They are extremely busy people, and he travels all the time. His wife was telling me that now her husband can grab his bag and go. There is no more guessing where his clothes are when he needs to go find something for a trip or when they are going on vacation or just getting ready for the day. Now they know exactly where everything is, and there is no guesswork or fumbling for a pair of shoes. So yes, the design absolutely met their needs," said Beth.