Custom Design Makeover for a Reach-in Closet
There comes a point when even the most organized among us realizes that closet organizer systems created with off-the-shelf products have their limits; problems like shelving that fits 2 ½ pairs of shoes, or hanging rods that let our fine clothing trail on the ground. And no matter what we do, the whole thing doesn't look pulled together.
This homeowner decided to do something about it. Trading in standard wire shelves and plastic storage boxes for a custom closet design stepped up her organization as well as let her own unique style shine through.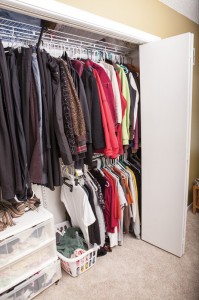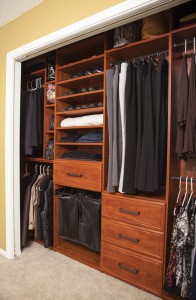 The reach in closet belonging to Vicki was as organized as she could manage, but something was missing. She knew she was only using a fraction of the closet storage potential but wasn't sure what to do about it. "I could only use three or four feet of space when the bi-fold doors were open," Vicki explains. Overall, she kept things tidy but it lacked the cohesive look she craved.
Minneapolis Closet Factory owner Janice Gaut came in and talked to Vicki about her storage needs. Then she presented a wide variety of options to choose from. "I couldn't believe there were so many choices as to what I could have," she says. The two of them worked together to finalize the organizational design, finish and accessories.
The final design offers multiple hanging areas sized exactly for the clothing, from pants to jackets. Four generous drawers and several shelves contain folded items and specially sized cubbies display Vicki's handbags, making them easy to see and select.
Aesthetics and function combine perfectly to allow for high levels of convenience. Vicki now hangs all of her slacks straight, which virtually eliminates creases. And at the center is a station of two generous pull-out nylon baskets for dry cleaning or separated laundry.
All of the needs Vicki had were met, using a closet design that is as attractive as it is sturdy and flexible. One of Closet Factory's key strengths is its designers, who listen carefully to each client before beginning a closet storage solution.
Want more closet makeover inspiration? Take a look at some of our great customer testimonials!
(Photos courtesy Midwest Home)