Custom Closets Making Deals in New York City
In square footage insatiable New York City, real estate agents and property brokers are discovering that the number of bedrooms, once a major deal maker or breaker for buyers and renters (depending on one's requirements), has been replaced by a more important question; how many closets are there and how big are they? In space-limited cities, developers have started to realize the need to design swoon-worthy closets. They also have to figure out the best size for the closet space, so that it is large enough, but not so big as to encroach on the rest of the apartment's living spaces.
In luxury buildings, developers are moving past the single-shelf and hanging-rod designs of the past, and are now creating closet systems with multiple organizational features to attract buyers. For urban dwellers, living in a limited space also creates the need for organization in order to accommodate one's belongings. Therefore, we're starting to see more new properties working with custom closet companies to either build custom closets or to stage model apartments with custom closet units. And, real estate agents are reporting that many home buyers are so attracted to the custom closets that once they buy the apartment, they also work with the closet company to customize every closet in the home.
A PIED-À-CLOSET
Stephen G. Kliegerman, president of Terra Development Marketing – which advises property brokers on marketing buildings – says, "What we've all certainly learned over the years is that although kitchens and bathrooms are very, very important, you cannot overlook closets." People are beginning to realize that if they're going to spend thousands of dollars on their kitchen to store pots and pans, they should equally spend money on a closet where they store more valuable items like clothes and jewelry.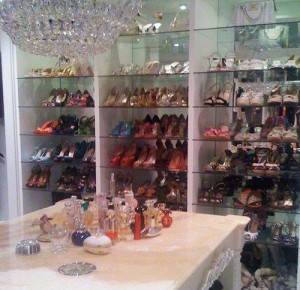 In some larger apartments, homeowners are converting an extra bedroom into a walk-in closet. And, for those with really large apartments and a really large accessory collection, they are now devoting entire bedrooms, which are transformed into a closet to displaying their vast collections.
One couple from Hong Kong took this concept one step further. After helping them buy a property on Fifth Avenue, real estate agent, Tristan Andrews was tasked by the couple to look for a small apartment to house the wife's wardrobe. For $7,950 a month in rent, Andrews found a place for the women's clothes in a two-bedroom Madison Avenue condo. He said finding a place wasn't easy, specifically when filling out rental forms, "It's very difficult to say, 'Occupants: 1,000 pairs of Jimmy Choo shoes.'"
IT'S A BEDROOM TURNED CLOSET TURNED HOME OFFICE
People now buy property with multiple bedrooms not because they have family members who need to sleep in them, but because they have another specific use in mind for that space. And, if they don't have the luxury of wide-open space, they don't think twice about losing a bedroom to gain more closet.
Chelsey Ward and her husband bought a three-bedroom co-op in Tribeca and converted one bedroom into a home office, and another into a closet. They said that converting the bedrooms gave them the experience of what it would be like if you had an entire house, or a car and a driveway and a backyard. And, some converted closets are now doing double duty as a closet and a home office. Doug Perlson, the CEO of RealDirect – an online real estate brokerage – shares a home office in a converted bedroom turned walk-in closet in his Upper West Side apartment with his wife, a lawyer. "It's a very attractive feature for people to be able to work from home and have a dedicated space," Mr. Perlson said, "but be able to shut it off and not see it."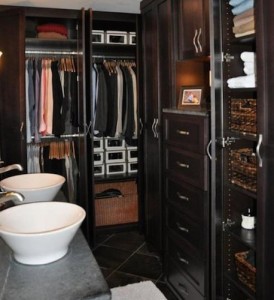 Kitchens and bathrooms aren't safe from conversions either. After looking at newer condos with small closets, Melissa Bartolini Kearney and her husband opted for an older apartment in Park Slope with more closets and a kitchen with a breakfast nook, which Melissa promptly made into an extra closet. Sales executive Carolyn Musher also moved into an older Park Slope condo and although it came with large closets, Carolyn is demonstrating her priorities and converting a half bathroom into a custom closet. "My guests can use my kids' bathroom," she says.