Closet System Solution For A Unique Closet Space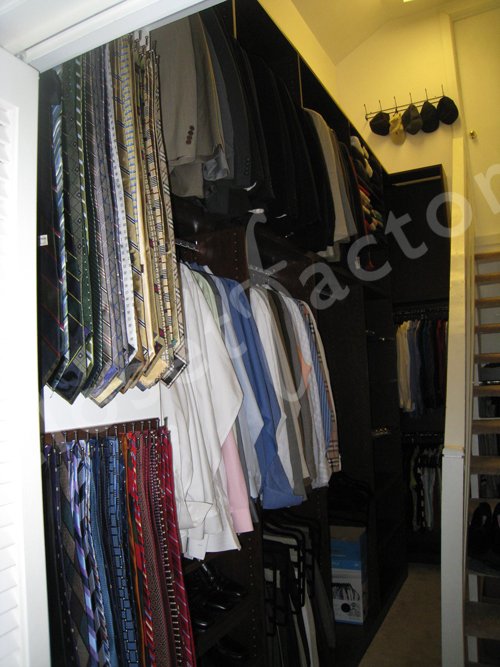 Men's Custom Closet System in Tall Narrow Space
Sr. Closet Designer Sue Pike of Closet Factory Richmond designed this custom closet system for a unique master closet to maximize hanging space, storage and organization. Where once the space was bare Sue used custom tie racks, triple hanging, and extended the closet system design to take advantage of the tall ceiling.
"My neighbors come to me for answers to how to make better use of their very challenging closet space. They had a long, narrow closet with an attic stairway on one side, a 14 foot high ceiling and lots of clothes! They also had a keen sense of style and wanted a rich and contemporary look. The answer was obvious that we had to use height to our advantage when storing and accessing their hanging clothes. I created multiple sections of triple hanging and use of wardrobe lifts so they could reach the third top of the closet easily and regularly. The mocha wood grain closet, with full backing, solid slanted shoe shelves, chrome accessories, and under the stairway drawers completed the look." – Sue Pike, Sr. Closet Designer

Wardrobe lifts are sometimes used in closets with unusually tall ceilings. The lift has a long handle that allows one to pull it down to reach items stored up high.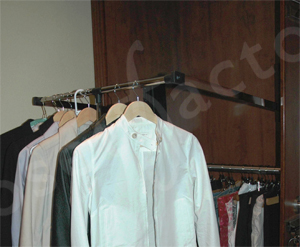 For more custom closet design looks check out our Custom Closets page and get our free offer white it lasts!