A Closet Makeover Sparked on Twitter (or How I Met Daniella Monet)
I met Daniella Monet in the most Millennial of ways – on Twitter. The actress (Nickelodeon's "Victorious," "Baby Daddy," "The Fairly OddParents Movie") was looking for a company to create a dream closet for her new Los Angeles home in time for a big house warming party, and sure enough, after exchanging Tweets, texts, and emails, our plan was set.
In part 1 of my series with Daniella, she takes me through the process of designing her new closet and how she was able to personalize the space to satisfy her hectic Hollywood lifestyle.
Chaos Everywhere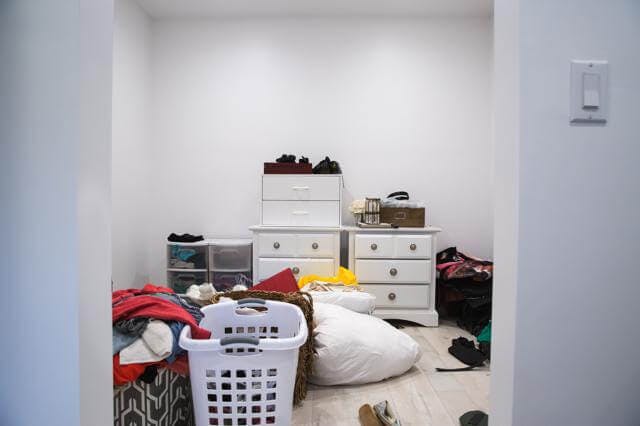 "All I wanted to do was have a really cool walk-in functional closet that Andrew and I could both share easily and house both of ours stuff," Daniella says, referring to live-in boyfriend. "We were spreading our clothes and shoes and storage throughout four closets in this house, two of them being coat closets. So what we did was an add-on, and then allocated 100 square feet just for the closet."
For many people (myself included), a closet is a personal challenge: a chaotic, overwhelming mess that can suck the fun out of getting dressed in the morning. However, as Daniella and I both learned firsthand, designing a space around your needs and daily routine can vastly improve your experience. This involves, naturally, first gathering the necessary data.
The Devil's in the Details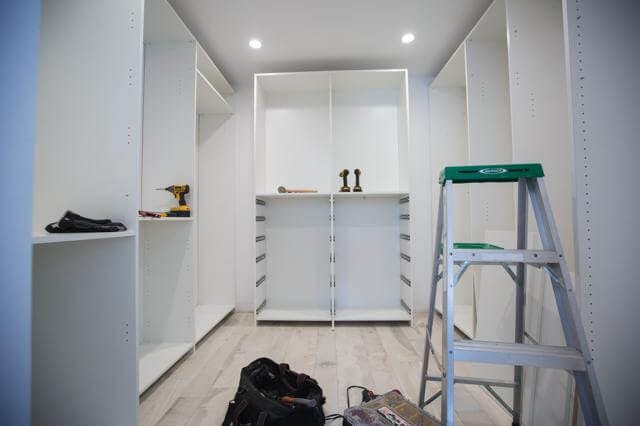 "I had no idea what my needs were," admits Daniella, "until [designer] Joanna Forbes graced me with her presence. She measured our shoes, literally, to see how tall and wide they were so she could give us the space that we needed. She asked us questions like, 'Do we fold our shirts, or hang our shirts, which shirts do we hang, which do we fold. Do we hang our pants?'"
Questions like these helped Joanna create an organizational approach to the space that I found to be artfully nuanced in unexpected ways.
"We really made sure with measuring – the depth of her shoes and the depth of her boyfriend's shoes – that they would fit on the appropriate shelves," explains Forbes. "We added a deeper, slide-out shelf so she could get two pairs of shoes on there. Next, we got the design on my computer so she could start seeing it in three dimensions. I find that this helps a lot of people, when you talk about a space, because you want to understand what your closet is really going to feel like in the room."
"Every little detail that you would have no idea to think about goes into this process," says Daniella. "And for that I'm so grateful because at this point, I'm just throwing things into the closet. So to have a space that's just so organized and has that Zen element to walk in and go, 'OK, this is what's going on, this is what I'm going to do.' It's going to help make [life] so much less stressful. I mean – pinch me! It's going to be awesome!"
Use a System to Avoid Losing Time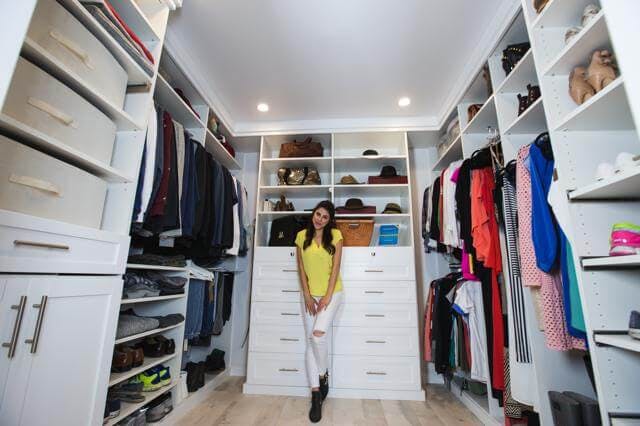 Daniella allowed our photographer, Carlos Lopez, and me to stop by before, during, and after her closet installation to take a few snapshots of the entire process. Wanting to get the best pictures possible, I decided to contact professional organizer and New York Time's best-selling author Regina Leads to help harmonize the finished space by color coordinating Daniella's wardrobe.
"You want to keep types of clothing together, and you also want to keep them color coordinated," Leads says. "Let's say I come into the closet and I want that black, plaid blouse, and I want to have a pair of black slacks to wear with it. You know there's only one place in your closet where these items can be, so if you don't see them, they're in the laundry basket, ready to be laundered, or they've been sent out to the dry cleaner. But by color coordinating, you'll save time, you'll save money, and you'll save energy."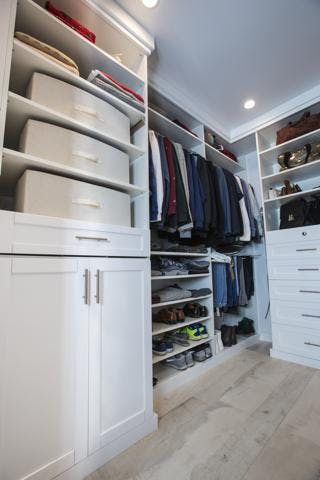 Once again, I was astounded at the level of detail that went into creating a truly organized space. It had me daydreaming about my own closets at home – how much time was I really wasting every morning in my rush to find a matching shirt?
According to Apartment Guide, the average person spends up to 335 hours a year scouring the house for misplaced things. That's almost 700 episodes of Seinfeld I could've been watching!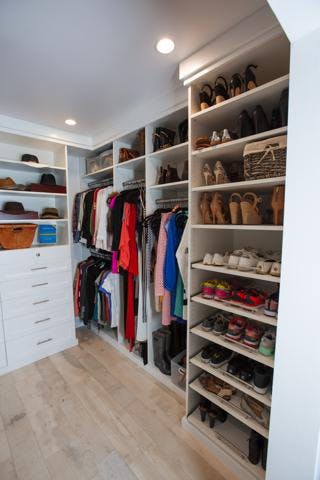 "I can't wait to experience my new sanctuary," Daniella smiles eagerly as we wrap up our interview for the day.
After experiencing all of the passion, vision and attention that went into her new dream closet, I don't blame her.
Recreating a Classic Boutique Feel
In part 2 of my series, Daniella highlights some of the stylistic choices that went into her new closet, and helps me understand how she and her designer were able to create a classic 'boutique' feel at home.
Check back on Wednesday for part 2!
For more stories like this, check out more of our blog or follow us on Facebook, Instagram, or Pinterest!