Closet Factory Designer Featured on CBS NY
"When I walked into this space everything was on the floor," jokes Roberta Catuogno on a live CBS New York news segment featuring a custom closet makeover.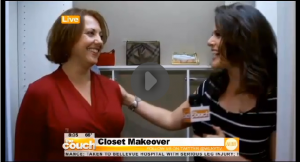 Roberta, a longtime senior designer with Closet Factory NJ, soon changed all that with a closet system she designed for a small attic space. It provided the client with enough shelves, hanging rods and drawers to store everything neatly. In addition, she designed an open area behind the hanging rods to store luggage, neatly concealed behind clothing.
The project was featured prominently in two segments of "Mobile Couch," a local news program on CBS New York. Reporter Alex Denis asks Roberta to explain how she came up with the right design and how she works around odd space configurations. We see Cris Yersevich finishing up the installation and gamely pointing out some of the special features of the closet, including a valet rod.
We were very excited for the opportunity to show a custom closet makeover within the context of a television news segment. Congratulations to our talented New Jersey team!
Closet Factory serves most major metropolitan areas nationwide—we're in your area! Call us for a free design consultation at (800) 838-7995.