Closet Factory Chosen to Help Design Prestigious Showcase Home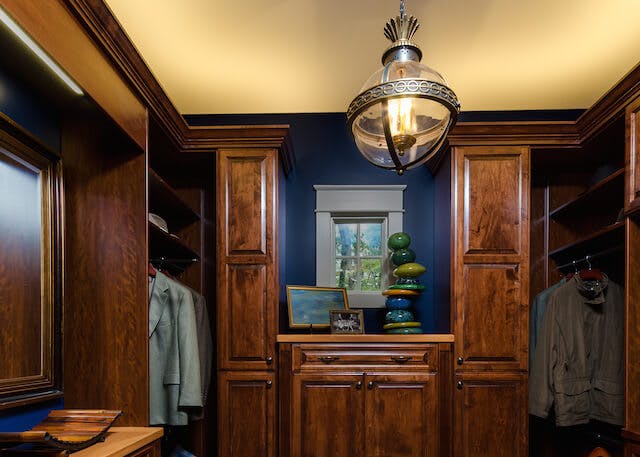 In Richmond, Virginia, as an annual fundraiser for the Richmond Symphony Orchestra, a local builder is selected to build or refurbish a house that is then decorated by top local designers. Using only the house's architectural plan, designers submit designs to furnish specific rooms even though the house had yet to be built. The winning designs are then selected and executed.
In 2014, the results became Hampton Manor, the Richmond Symphony Orchestra League's 16th Designer House. Tickets were sold to view the finished home with the proceeds going to the Richmond Symphony Orchestra and the house ultimately sold to one very lucky family.
Hampton Manor was built in nearby Hallsley, Virginia by luxury home builders, Bel Arbor Builders, Inc. The stone and cedar exterior of the four bedrooms, four and a half bath home resembles a New England manor. The interior space sports almost 4200 square feet that was ultimately transformed by a team of talented designers. One of these designers was Closet Factory Senior Designer, Georgia Kukoski who designed the two his and hers walk-in closets that adjoined the master suite and bathroom. Georgia's vision for both closets was to create personalized spaces for each individual to feel like they had a special retreat inside their own home.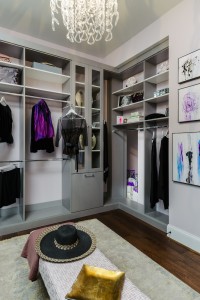 After Georgia was selected, she was immediately faced with the challenge of having to change her design. The original blueprints for the woman's walk-in changed when the shower in the master bathroom – with which the closet shared a wall – was reconfigured. Georgia was left with this odd triangular shaped nook in the walk-in closet and had to incorporate it into her closet design. So Georgia cleverly decided to put cabinet doors over the nook to seamlessly make it a part of the custom closet system. The present owner of the house now uses this nook as a secret compartment to hide Christmas gifts from her small kids.
For the woman's walk-in closet, Georgia took the trend of closets that resembled boutiques and expanded upon the idea, designing a space that looked like a modern boutique, so the owner can feel like she's shopping while in her closet. She achieved this look with silver frost finished cabinetry topped off by metal accessories. White shoe shelves with chrome metal toe stops and glass inserts in the cabinet doors accentuated the sleek gray finish. A unique custom countertop was created using a special hand painted finish to resemble layers of marble. Georgia created a seating area in the middle of the closet using an upholstered bench so the owner can comfortably spend time in her boutique closet. She then finished off the look with accessories and artwork in various shades of violet.
For the man's closet, Georgia wanted to give him the same look and feel of a personalized space. She used a different color scheme and different materials to keep the notion of treating closets like rooms with each having their own unique elements. For the man of the house, Georgia designed a walk in closet that had the look and feel of a gentleman's club using raised paneling with stained wood in a mocha finish, crown molding and a beaded base board.
His closet was also equipped with an upholstered bench, which provided a decorative seating area. To top off the look, Georgia felt nothing visually expressed a man's closet more than showcasing his ties. She wanted to create a piece of artwork that would also be functional, so she created a tie rack made out of a leather covered board that was framed with wood and attached with tie tacks so a man's ties could be artfully displayed.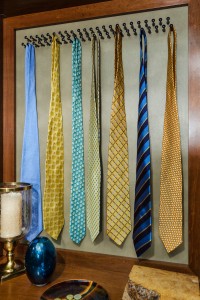 Ultimately, about 6,000 visitors toured this showcase home and it raised thousands of dollars for the Richmond Symphony. To be selected to participate in this prestigious annual event is quite an achievement and we at Closet Factory congratulate Georgia and her winning custom closet designs.
Looking for a closet like this walk in for your own? Sign up for a design consultation to get started.